Avaya spun off from Lucent as an independent company focused on Enterprise Communications in September 2000, and this month we celebrate our 20th anniversary.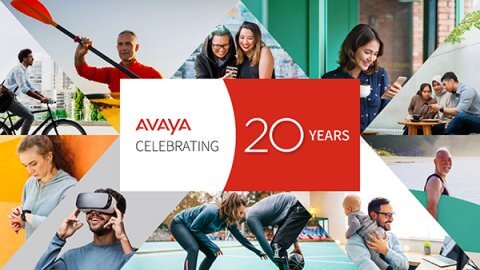 If we look back 20 years, Facebook, Twitter, YouTube and WhatsApp didn't yet exist. The iPhone was still years away. Avaya – a name chosen to convey the flow of open and flexible communication, and seamless, effortless connections across people and businesses – was selling Definity phone systems, and focused on carrying on the reputation for innovation that came out of Bell Labs and our original AT&T heritage. And we were doing work that would help to define what was then the emerging concept of Unified Communications.
We've come a long way, and we continue to deliver on innovation that has defined the modern business communications landscape. Avaya enables our users to deliver 11.7 billion experiences that matter each and every day…with 100+ million UC lines and over 5 million contact center users. And we are All In to build an even stronger company that will lead our industry into the next 20 years and beyond. We'll do that by being a progressive innovator with our technology built to shape and mold to the "new," continuously.  We'll do it by capitalizing on technologies and platforms like collaboration from the cloud, AI, enhanced mobility, cybersecurity, and additional innovations to deliver even more impressive outcomes and experiences for our customers. We'll do it by being uniquely positioned to address an organization's requirements around both the Customer Experience Center and the Digital Workplace, helping them deliver tangible business outcomes however they need them.