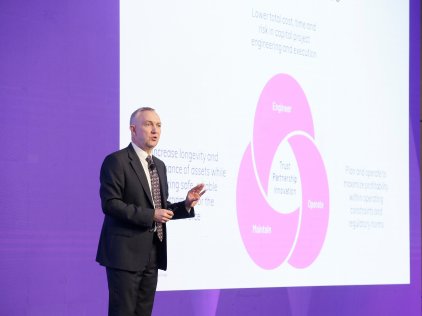 The AVEVA World Conference, held at Grand Hyatt Abu Dhabi Hotel on January 21 and 22, showcased AVEVA's latest innovations in industrial software and featured a series of customer speakers, including Abu Dhabi National Oil Company (ADNOC) and Saudi refiner SASREF.
After the opening remarks by Mohamad Awad, VP Middle East & Africa at AVEVA, the software company's Chief Executive Officer, Craig Hayman delivered a compelling keynote on the importance of using technology to enhance human experience.
"Technology is intended to enhance the human experience, rather than eclipsing it. At AVEVA, we focus on the industrial sector – this is the sector that produces the staples of our lives: food, medicine, oil and gas to name a few," Hayman explained.
He continued by highlighting the great success the business has seen in the past year, as AVEVA became the largest technology company on the London Stock Exchange and has doubled its market capitalisation. He believes the success is due to their focus on their customers.
Hayman said, "Our focus on our customers and the digitalisation of the industrial sector are one of the main reasons for our success."
"Two years ago, many of our customers were just beginning to understand the concept of Industry 4.0, while today they too have begun their digital transformation efforts by driving more digitalisation into their businesses – they are moving very fast and we are moving with them."
Futhermore, the Chief Executive Officer opined that digital transformation calls for more than just technology and ambition. It also requires trust and collaboration.
He said, "At AVEVA, we have an approach to how we work with businesses to rapidly move them. We make it very visible to people of what's going on inside their business and there are different levels of adoption to every country we work with."
The industrial software company also revealed global survey findings which identify the key investment drivers for digital transformation across 1240 EMEA, North American and APAC decision makers across nine industry verticals.
According to the survey, the Middle East showed less demand for AI, while it favoured technologies such as IoT and Edge, 3D visualisation and enterprise mobility.
Martin Yeomans, EMEA Lead at AVEVA, also touched on AVEVA's growth in the region and in the UAE specifically. The company has in fact recently moved into a new and larger office in Dubai with a workforce of about 70 people, with a further 15 in Abu Dhabi.
"The UAE is one of the fastest growing parts of our business. Our customers here are mainly from the energy sector, but we're seeing water and wastewater as key growth areas in the region. The areas we are most excited about is within the future of the smart city project, with cities like Dubai and Abu Dhabi taking the lead in this aspect," Yeomans explained.
At the conference, AVEVA also announced the launch of AVEVA APM Assessment, a significant enhancement to its Asset Performance Management (APM) portfolio, AVEVA Asset Strategy Optimisation and AVEVA Asset Strategy Library.
Adding to AVEVA's comprehensive preventive, condition-based and predictive software capabilities, the integrated solutions enable the workforce with prescriptive guidance, resulting in improved efficiency, safety and reliability.
The Chief Executive Officer said, "Our Asset Performance Management product line gives us the ability to take all of the operational data of an organisation's asset, to analyse that data and predict a failure before it happens."
By deploying these AVEVA solutions, organisations can predict asset failure and then prescribe the most economically advantageous action to take to remediate potential asset failures. For company directors, these tools mean doubling production output resulting in a safer, more reliable environment for the workforce.
"In the last four months, we have invested heavily in our APM portfolio and we believe that we are number one in the market in this area," added Hayman.
On the sideline of the conference, AVEVA's Chief Revenue Officer, Steen Lomholt-Thomsen spoke about the recent developments and initiatives in AVEVA's channel partner programme.
He said, "Over the past 12 months, we have upgraded our channel programme and have also introduced a 'co-selling' program, bringing together our direct sellers, resellers and distributors to co-sell to drive AVEVA's business."
Strategically, the industrial software company encourages partners to focus on industries where they have a very good footprint and the company wants to work with partners to make them grow in those industries.
"We are implementing our channel partner systems and introducing new incentive models so that we can work together, be transparent about business performance and investments and partners can become an extended part of the AVEVA family," commented Thomsen.
Commenting on AVEVA's roadmap for the future, Thomsen said, "We are bringing about 600 of our most accomplished partners to our annual kick-off in April, where we will announce the partner eco-system, and our co-sell platform. Today our partner channel is about 30 percent of our business. In 3-5 years, we envision it to be close to 50 percent."