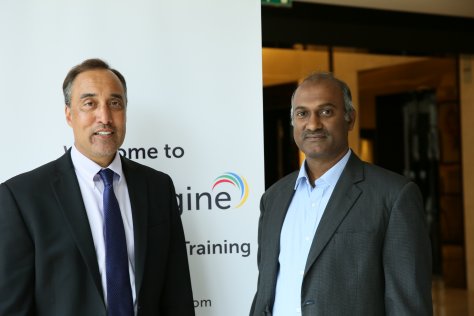 ManageEngine's president Raj Sabhlok and regional director for sales Nirmal Manoharan, explain the importance of channel partners developing their skills to leverage market opportunities.  
The advent of the fourth industrial revolution and related technology advancements are leading regional organisations to ramp up their network infrastructure and deploy solutions that aim to enhance their operational efficiency. This results in increased demand for IT monitoring and management solutions, a space in which US-headquartered Zoho Corporation's enterprise IT management software division ManageEngine pioneers in, having foreseen the opportunities around two decades ago.
At its recently held User Conference in Dubai, TahawulTech.com caught up with the firm's president Raj Sabhlok and regional director Nirmal Manoharan.
Sabhlok said, "Our business and profitability are growing. For every technology that is deployed, organisations will need to monitor, manage and optimise it. This is where our expertise lies."
Boasting close to 7,500 employees today, Zoho Corporation is well on pace to add another 1000 personnel to its operations during this year.
Sabhlok is confident about the future growth of the firm's business. He believes with Expo 2020 around the corner, all related initiatives translate into technology, further fueling the company's as well as its partners' business potentials.
"If initiatives such as Expo 2020 continue, and the global economy remains stable, there will be more investment in technology, which in turn will help our business. ManageEngine grew at 35 percent last year, which is more than the previous year."
According to the Sabhlok, this growth signifies the volume of consumption of technology. There are quite a few drivers for the firm's success.
"There are a lot of intersections with new technologies that are driving our business. Artificial Intelligence (AI) is becoming relevant and it is prevalent in every one of our major product lines.
Organisations beginning to retool with modern IT management solutions will further accelerate our business.
"Although cloud is not as quickly adopted in the region as compared to globally, it is also starting to take off. Cloud management is an additional requirement for businesses as they have legacy systems that need to be managed. This is another driver that is going to propel our business in 2019."
Manoharan said, "We have excellent technology partner relations in the UAE. I believe the opportunities continue to be massive in the region. The geographical area is expansive, and we are continuing to look out for new partners. However, we are clear that we will only choose partners that match specific objectives and geographies."
According to Sabhlok, partners are increasingly realising that customers' requirements are becoming more holistic rather than focused on a single aspect of their technology deployments.
He said, "In order to provide comprehensive solutions, partners have to scale up their skills and become more proficient in addressing things like cybersecurity, which is a huge growth area."
"This is why we keep focusing on partner training and certifications," added Manoharan. "We conduct periodic trainings, both on-premise and virtual or gather together for a user conference session.
"We make sure a new product update is communicated to our partners and ensure they have adequate knowledge on it. A certification by us in a technology or solution further cements customers' confidence in our partners. We believe these are important aspects which will help partners to excel."
Customers too are interested in these certifications by the firm.
Sabhlok added, "At our end user conferences, we see a lot of customers staying back for the certification sessions. It's important for them to go back to their businesses and display the acquired skillset and be recognised for the training that they have undertaken. It even helps their career overall to have ManageEngine certifications."
Over the course of this year, one of the priorities for the firm is to conduct trainings through seminars and workshops for customers and partners alike in each product domains.
Besides emphasising on training, we will see the firm scouting for partners with an appetite to solve customers' problems.
"We are on the look out for value-added resellers. Those who possess skills in various domains within ITSM will be a great match for ManageEngine. We are inclined towards partners who have designed their business to solve customers' overall challenges rather than addressing only one part of it," Manoharan said.
"We want partners to expand their skills. This would make them more effective in representing our products as well as in providing overall IT management solutions for our customers," Sabhlok added.