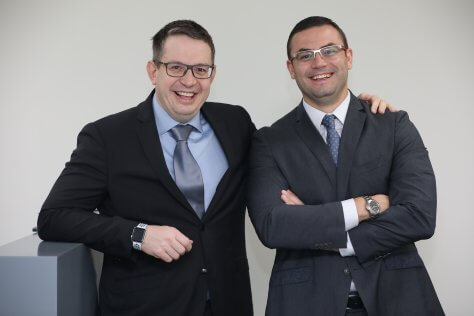 Digital transformation technologies are redefining the ways we work and live. To successfully deploy these technologies, organisations have to first knit security into its operational architecture to safeguard its networks and data.
Understanding that only by achieving a 360-degree view of their systems and data, can customers be completely protected, Trusted Access by Security Code, is committed to designing security solutions to safeguard complex IT infrastructures.
Regional customers can now access these solutions as Trusted Access has recently opened its regional office in Dubai, UAE. In a detailed conversation with TahawulTech.com, Trusted Access by Security Code's CEO Andrei Golov and regional managing director Anis Khasun, reveal how regional firms can achieve holistic security.
Can you elaborate on the opportunities that the Middle East market offers Trusted Access by Security Code?
AG: The Middle East region serves as a hub to many local as well as global enterprises. Similar to other countries, there are political and economic threats that exist here. We have interesting solutions that can be effective alternatives to traditional solutions in this regard. We are unique because we don't just cover end points, networks and cloud but the infrastructure as a whole and offer a holistic approach to protect the IT infrastructure. Our solutions maintain system integrity by being embedded beneath the operating system. The key idea is to preserve sensitive data security while accepting the fact that underlying infrastructure might be vulnerable.
AK: We believe that if customers are relying on using external security solutions that are not created by them or their government then their data could be highly vulnerable. With our solutions, the security element is rooted in organisations' operating systems from day one. They can proceed with daily business without worrying about security. They can be absolutely sure of the security we provide because it is entrenched in their systems.
What is your objective for the region?
AK: Our aim is to protect customers' data residing in a vulnerable environment. We are not here just to protect customers' hardware. We guarantee that in the worst-case scenario, if their systems are compromised, they will still have their most valuable asset, which is data. It will not be stolen or deleted, and no one else can have access to it, except the authorised person.
If your solution is embedded in a device or network, a hacker couldn't penetrate the system? 
AG: Yes, there will not be any 'point' to hack. We take the security and data away from the computer because it belongs to you as a customer, not to the producer of IT or to Microsoft or Google. You are the owner of your data.
Is this data stored in your software solution?
AG: No, the data continues to exist in the computer.
AK: But the encryption, access and control authentications are all regulated by you – not the producer of IT.
AG: This is why we have come up with a trusted environment module that sits below the operating system. So, if a hacker tries to compromise your operating system, he cannot do so because he will not be able to turn off our defence mechanism, which is situated below.
AK: If somebody tries to intercept your data or attempts to get unauthorised or hidden access through your data, we will trace it immediately. We can see Windows, however the Windows operating system will not see our solutions as it is situated below it.
AG: We are like a shadow. This is why it could be interesting for regional customers because we offer an alternative view to traditional security.
AK: Our focus is to safeguard customers' own data on a hardware that does not belong to them and therefore, they cannot be sure about how it is protected or if it has any back doors.
What kind of interest have you observed from the region for your offerings?
AK: The regional market is quite open for new solutions, especially since like any other geographies, it is susceptible to sophisticated threats or attacks. Customers can invest heavily on a protection mechanism from other providers, but at the end of the day, if it is not serving the purpose, then the money spent is in vain. Instead, our offering promises a new approach that makes them independent from third party security limitations. We like to call our approach as having 'digital independence'.
AG: Security Code is the parent company of Trusted Access. We might be new to the region, however, our legacy from Security Code includes protecting critical resources within government entities, enterprises, banks and financial institutions, telecoms, oil and gas and the like for the last two decades. This is why we are so sure of our success.
AK: Another important aspect that regional customers must note is that, if they say a particular set of data is classified, then we immediately close the IT infrastructure around it. We never touch or analyse it. We don't have a pubic cloud for this. We are not interested in the data, we are laser-focused on protecting your data and ensuring no one has access to it.
Can you elaborate on your market approach?
AK: The market strategy will be based on partnerships with channel partners in different countries. However, we are ready to work together with our channel partners to customise our solutions based on the specific challenges that they face in their markets. We are currently looking to recruit value-added distributors and partners within the region to create our channel ecosystem in the region. 
AG: We are also willing to white label our solutions to further enable our partners. We will also hold regular training programmes and teach them about our offerings, as it is not your regular run-of-the-mill solutions.