Technology's transformation of society is set to accelerate, Michael Dell has told delegates at his company's annual gathering in an upbeat assessment of the ability of innovation to solve the world's problems.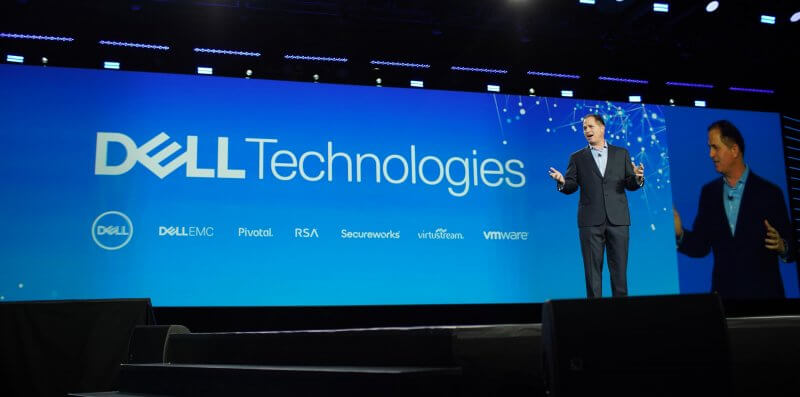 Speaking at Dell Technologies World in Las Vegas, the founder and CEO of Dell Technologies highlighted the impact that technology has had – and will continue to have – on businesses and on people's lives.
Innovations that allow people to see, hear or walk are just some of the human-centred advancements that Dell referenced at the opening day of the event, which has attracted more than 15,000 IT specialists.
"How about real progress, like the eradication of deafness and blindness and paralysis –  [through] implants and AI," said Dell, speaking of the likely innovations in the coming decades.
The world will see what Dell described as "a massive wave of innovation" with people who are "coming from totally different perspectives" becoming involved in efforts to solve major problems.
"Technology has been a great force for good over the past three-and-a-half decades because of that," said Dell, whose company this year marks its 35th anniversary.
Dell cited artificial intelligence, neural networks, which are algorithms modelled on biological nerve networks, and deep learning, which involves artificial intelligence based around neural networks, as being of key importance.
"When you add 5G, a revolution is taking place. 5G is all about moving data faster, exponentially faster," said Dell.
"Instant response times and local AI is needed; that means a massive build-out of local AI technology.
"People are taking 5G and cloud services and putting them together and creating new businesses."
Business is looking at a future that is "AI enabled and software defined", said the 54-year-old Dell, adding that his company, which is based in Round Rock, Texas, was "innovating at an incredible pace to help to realise these possibilities".
While Dell said it was impossible to predict what the most significant innovations in the coming decades would involve, he added, "I see them coming faster and faster."
He also highlighted the impact on customers and the IT sector of the accelerating pace of innovation.
"This is a time of unprecedented progress and an opportunity for all of use to have an outside impact through making [new] models in serving our customers and solving their problems," he said.
"Technology is the enabler of progress in every part of the organisation. Every business, every organisation, every government needs to reimagine itself in this new digital age.
"There's an explosion and tsunami of data sweeping us into this digital age. It's completely renewable; it's also inexhaustible."
Dell forecast that the technology sector would see consolidation, with companies forming partnerships with fewer providers in future.
"There's a trend towards more complete solutions," said Dell.