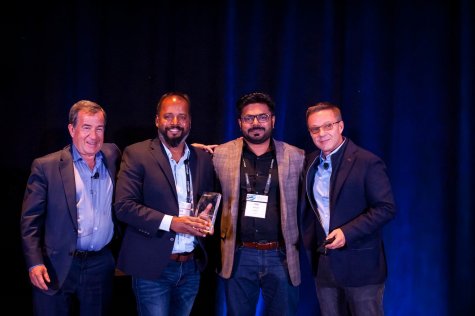 Huco, a regional professional services and innovative IT transformation solutions provider, has won the EMEA 2018 VMware Partner Innovation award for Services at the VMware Partner Leadership Summit 2019, held in Carlsbad, CA. The firm was recognised as the services partner of the year 2018 METNA at VMworld conference last year.
Huco is the only coveted VMware partner in Southern Europe and MENA while being among the first six exclusive partners globally to achieve all four of VMware's Master Service Competencies for delivery excellence in Data Center Virtualisation, Desktop and Mobility, Cloud Management and Automation and Network Virtualisation. Huco is also in the process of achieving Master Service Competencies in VMware PKS and VMC on AWS.
Being the only services winner from the region and the only UAE-based awardee at the VMware Partner Leadership Summit 2019, Huco becomes the exclusive GoTo partner for customer's transformation and innovation journey. The company after enterprising years of combining certified skills with innovation has to its successful credit 80 plus digital transformation projects and 50 plus workspace transformation projects in the region.
"Digital services help organisations prepare for the Fourth Industrial Revolution by building new channels to consumers while anticipating their modernisation demands. At Huco, we are constantly pushing the envelope of innovation boundaries by enabling these prototypes through agile designs and scalable and secure IT environments," said Dilip Kalliyat, president, Huco.
"We congratulate Huco on winning the Partner Innovation Award for Services in the EMEA, and look forward to our continued collaboration and innovation" said Jean Philippe Barleaza, EMEA vice president, Channel, Alliances and General Business, VMware, "VMware and our partners will continue to empower organizations of all sizes with technologies that enable digital transformation."
The award underscores Huco's remarkable achievements in accelerating digital transformation for large corporate and government organisations across the Middle East & North Africa.
"The award conclusively reaffirms Huco's technical expertise across VMware's portfolio. The kind of excellence and leadership we have established in the services business, we would like to establish in the solutions business as well and we will definitely get there." said Ashok Chakravarthi Arulmozhi, managing director, Huco.