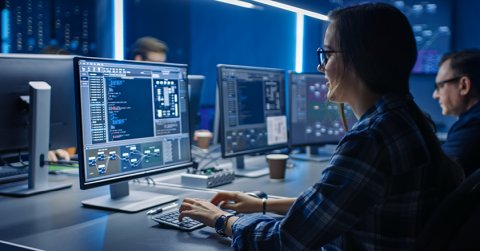 Orange Business and VMware, Inc. are strengthening their partnership to deliver Flexible SD-WAN with VMware as the first fully embedded SD-WAN offering in Evolution Platform.
The Orange Business Evolution Platform combines a secured digital infrastructure with an agile, cloud approach to order and manage services.
Cloud has become the benchmark for customer experience. Performance and trust are now non-negotiable, and innovation is the catalyst for customers' transformation roadmaps. Orange Business is transforming the way it provides the latest services from its ecosystem of partners, natively and digitally via Evolution Platform. The service platform enables enterprise customers to compose their own mix of services to meet their evolving business requirements, while benefiting from the performance of the Orange world-class infrastructure and global expertise.
Enterprises can access a catalogue of products, including Flexible SD-WAN with VMware, via a self-service console or through an API, using Evolution Platform. Automation and service chaining in the platform simplify the management of the customer's entire digital infrastructure for secured user-to-cloud and cloud-to-cloud connectivity, as well as for voice services. It also enables end-to-end visibility and service guarantees.
Flexible SD-WAN with VMware addresses the needs of today's highly distributed, latency-sensitive workloads, applications, and devices at the edge. It provides advanced automation capabilities and an optimal user experience when accessing remote applications. This equals significantly improved employee productivity. Organisations can bring up sites faster, using 5G, LTE, Wi-Fi, or satellite for hard-to-service locations. Edge devices are auto-provisioned, lowering both IT costs and deployment times.
Orange Business customers consuming Flexible SD-WAN with VMware via Evolution Platform will benefit from a global network of Super Points of Presence (PoPs). These Super PoPs are located strategically on the Orange Tier 1 global backbone, close to the customer and cloud providers, significantly lowering latency for applications and services, as well as providing needed business agility.
"In today's digital-first business environment, the demand for a resilient, adaptable and secured network infrastructure has never been more critical. We welcome VMware on board Evolution Platform. Its SD-WAN offering will provide our customers with choice and interoperability, enabling them to build the ideal network for their business", said Jean-Noël Michel, vice president, Communication Services, Orange Business.
"We're excited to bring the flexibility and enhanced performance of VMware SD-WAN to the Evolution Platform by Orange Business", said Sanjay Uppal, senior vice president and general manager, Service Provider and Edge, VMware. "As a key element of our software-define edge portfolio, SD-WAN allows organisations to modernise their digital infrastructure and monetize their network overlays by reducing networking infrastructure, providing zero trust and zero-touch pull-based capabilities and network programmability. Together with Orange Business, we will provide a more secure, reliable and scalable connectivity to organisations of all sizes across all industries".