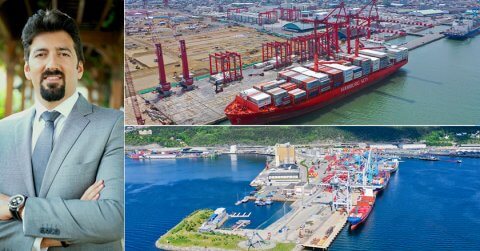 Orange Business – the enterprise division of the Orange Group and a leading global network and digital integrator – has signed a network connectivity contract with Istanbul headquartered YILPORT, part of the YILDRIM Group – one of the world's leading ports and container terminal operators.
Orange Business, in collaboration with Turkcell (Turkey's leading mobile operator), will provide global wide area network (WAN) connectivity for YILPORT's business operations across three regions – Nordic, Mediterranean, Latin America– covering the company's ports, offices and data centres. Orange Business already works with a number of high-profile port operators in the Middle East region and has shipping sector customers in Turkey.
YILPORT is an international port and terminal operator with activities in 12 countries, with 24 marine and seven inland terminals. The company is going through a rapid global expansion through both organic business growth and the acquisition of new port operations. The company has added several new port operations to its portfolio over the last 10 years. YILPORT is currently ranked 11th biggest international terminal operator in the world in Drewry's 2022 ranking and aims to become a top 10 global port operator by 2025.
Orange Business WAN for agility and growth
As a result of the collaboration with Turkcell, Orange Business will provide hybrid connectivity for YILPORT's ports, offices and data centres in Norway (Oslo), Sweden (Gavle x 2, Stockholm), Turkey (Istanbul, Kocaeli), Italy (Taranto), Portugal (Lisbon), and Ecuador (where YILPORT is investing to create the largest terminal on Latin America's Pacific Coast).
Orange Business will connect and link YILPORT's global portfolio of port operations and provide a unified network platform for future developments with the capability to add cloud-based applications and security services on top. The managed network service will also offer simplicity and reliability via a single point of contact for YILPORT, allowing the company's management team to focus on the core business strategy and value.
Orange Business global WAN provides the capacity, security and agility to support YILPORT's growing business. It incorporates Business VPN Internet, which securely manages increasing Internet traffic with no additional CAPEX or overhead budget. The solution also provides the security and flexibility to develop Internet cloud application usage, together with Internet Virtual Machines (IVMs).
Sahem Azzam – Senior Vice President Middle East, Africa and Turkey, added: "Orange Business is delighted to be working with YILPORT, supported by Turkcell. We are proud to be awarded this IT contract covering our hybrid connectivity solution and to support the company's exciting and ambitious growth plans as a trusted digital partner. YILPORT was looking for a secure, reliable global networking capability that would facilitate rapid growth and entry into new markets, while controlling spending. Orange Business WAN fitted the criteria. It is an easy-to-manage network solution which provides top level service quality and performance, helping to control costs, while providing a platform for future digital developments".