OKI Europe has launched the MC883, a user-friendly A3 colour smart multifunction printer (MFP) for the professional services sector where fast, accurate and secure document management is essential to meeting client needs.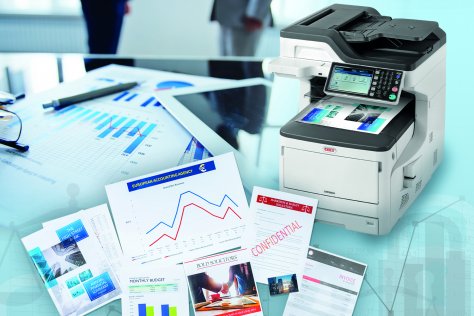 Ideally suited to organisations where handling sensitive documents requires high levels of security, the MC883 offers PIN and ID authentication, so confidential documents, such as legal files, contracts, financial records and invoices are kept secure at all times with full traceability. Documents can also be securely scanned, stored or sent to required destinations for simple document management. And thanks to easy maintenance, the MC883 can always be relied on even in the most high-pressure environments, without the need for specialist engineers.
To improve productivity, efficiency and security, the MC883 features OKI exclusive software, SENDYS Explorer, a complete software solution that helps ensure GDPR compliance by using pull-printing, secure logins and PIN codes. Documents are stored, transferred and printed securely, reducing the waste and cost of unnecessary printing.
SENDYS Explorer can be accessed via a web browser, enabling users to scan and manage documents from mobile devices. This includes optical character recognition (OCR), email-to-fax, forwarding, conversion and uploading capabilities. SENDYS Explorer also allows users to privately access files and search text strings within a document's content and track the status of all scanned jobs via the document repository.
Consumables can be proactively managed using SENDYS Explorer Fleet Manager, so the right levels of consumables are always available on-site.
The MC883's combination of smart software and rapid scan speed of up to 50ipm contributes to efficient document capture and management and can help maintain secure archives for mandatory record-keeping, making it ideal for managing invoices, financial records, legal documents and contracts. Designed to complement essential document processes, OKI's sXP open architecture enables the device to be used with third-party software solutions and integrate with most existing business workflows.
"For busy professional services businesses, the requirement to manage often complex document workflows securely under the pressure of looming deadlines can be challenging, especially when information needs to be protected for compliance and client confidentiality," said Javier Lopez, general manager, Vertical Solutions, OKI Europe Ltd.
"The MC883 is designed for easy self-maintenance. It is equipped with powerful solutions that deliver efficient and secure document capture, storage, management and output – leading to smarter, more secure processes and maximum device availability for time-pressed organisations."