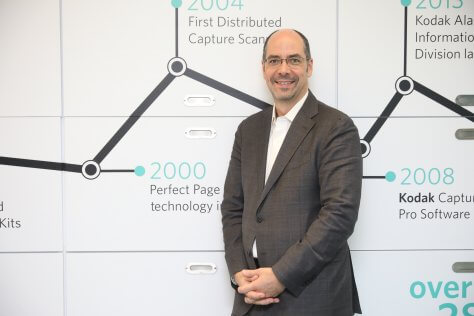 Marc Jourlait, CEO, Kodak Alaris, outlines the main facets of the firm's Middle East operations and explains how the company can play a vital role in enabling paperless strategies within the region. 
Can you give an overview of Kodak Alaris' business in the Middle East region?
Kodak Alaris is a five-year-old firm that boasts a rich heritage from Eastman Kodak, spanning over 130 years. We have an extensive portfolio within Kodak Alaris – our Alaris scanner business is recognised globally as a leader in terms of our market offerings. Our products offer highest performance, best quality and reliability. The service and support that come with our products are unmatched in the industry. Ensuring the highest possible quality is at the core of everything we do. Historically too, 'quality' has been associated with brand Kodak and Alaris scanners continue to uphold the tradition.
We believe our products can solve a lot of business issues, whether it's transformation and digitalization of e-governments or BPOs or companies that aim to move away from paper-based processes. It is complicated and demanding to access data that is on paper.
Data is the new currency, even more so for this region. We all have to work towards in figuring out ways to make companies more efficient in this new digital age. We believe that our scanning solutions, capable to integrate into customers' businesses, will allow them to be more efficient by transforming themselves. This is our objective across the world and in the Middle East region as well. With our team based out of Dubai, we have had great success stories in various countries and a remarkable 2018 in the region.
How does the region feature in Kodak Alaris' overall growth story?
We have a strong presence and performance in the region. Our products and solutions do well versus the competition, in terms of the technology, quality and performance. We have won many awards over the years reiterating our standing in the regional market. What I enjoy about this region is the growth. We are seeing many e-government initiatives in almost all the countries around the region, aiming to transform themselves digitally. Additionally, we're also seeing private or large international companies with a presence in the region that need our technologies to transform themselves.
We have identified opportunities in all industries, segments, public and private sectors – the diversity of customers that we cater to is what fascinates me the most.
We have an expansive target environment across the Middle Eastern region and our solutions range from our entry-level scanners all the way to the high-end production scanners.  We are able to answer any demand in the market.
What are the objectives for your new financial year beginning this month?
Our single biggest priority is to satisfy our customers. Our solutions are mission critical to customers' business. We want to make sure our existing and new customers know they can rely on us. We want to emphasise and communicate that our equipment is reliable, high-quality and performs as it should; also to assure them that if they need service and support, then we are there. The first priority is to make customers happy.
Next is to introduce and roll out new solutions over the next 12 months. We will have new software capabilities and service offerings for the market. The year is about satisfying existing customers, winning new customers and bringing to market new solutions. We're excited about these objectives, particularly when we see that these technologies are very much applicable to what e-government initiatives and private companies are seeking. We are looking forward to a great year ahead.
With regional governments driving towards a paperless future, where do you see your business in the next few years?
We have been talking about being paperless for the last several decades. I don't think the ultimate aim of achieving paperless economy and business environment will happen in my lifetime. In my opinion, paper is here to stay. Granted that there might be less paper usage in the future, however, as human civilization, we produce paper. And hopefully, we are better at growing trees and producing pulp to produce paper. I hope we will be eco-friendly in the ways we consume paper, but as a civilization, we rely on paper heavily. We can streamline paper usage and production, but it will still be an inherent component for all businesses across all verticals. We can certainly play a big role in the streamlining process as our products can scan any type of documents in any form, as we are source agnostic.