The regional systems integrator, Emitac Enterprise Solutions, is using GITEX as a platform to unveil its new brand identity. The 40-year old company has revamped all aspects starting from the logo and website to even its portfolio of offerings.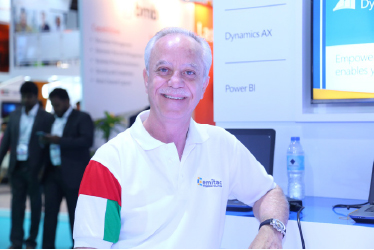 "Our vision over the last 40 years has helped our customers to achieve their corporate goals. Today our aim is take Emitac to the next level to provide excellence to customers in the true sense. To attain this, we need to elevate ourselves in terms of delivery and quality," says Basel Samara, Vice President, Sales, Emitac Enterprise Solutions. "Our new identity is about reinventing ourselves to power growth for our customers. Our objective is to be the leader in IT in providing solutions and services for our customers. This will have a positive effect not only on our customers but also on our investors, partners and our employees as well."
The rebranding comes at a time when the company is looking to go to the next level by offering managed and cloud services beyond just traditional infrastructure systems integration.
Samara says, "If you look at the new company logo, the letter 'E' incorporates all the letters of Emitac and the colours are designed in a beautiful, eye-catching style. The green and grey increases the sharpness of the yellow telling the customers that we have multipurpose options.
"Along with managed and cloud services, we are also focusing on application management services. We believe the services industry is important. We will be helping customers with a lot of cost-cutting through our services."
The company believes GITEX is the perfect timing and platform to announce its new brand identity, considering the exhibition boasts a large number of C-level visitors.
The company has also on boarded several senior executives to drive its new focused offerings around cloud and managed services.