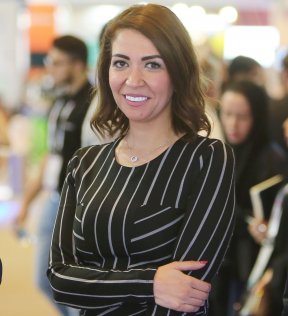 Customers will always demand business value from their technology investments to help them achieve their business goals. Today, CEOs and CIOs are looking for strategic partners to guide them through these changes and make the right investments.
With the number of smart connected devices proliferating around us and consumers themselves becoming increasing digitally oriented, I believe that only those companies that offer digital services, proactively learn from market interactions and use data-driven insights to optimise their operations, will be able to survive and thrive. Smart solutions have emerged as a result of these efforts to incorporate digital into initiatives across the value chain.
In a Financial Times survey, digital adoption was ranked as the highest priority by GCC business leaders when asked about their key focus areas as digitally oriented companies have a high level of agility that is needed to respond quickly to changing market conditions and customer needs.
This shows businesses that can transform digitally – fostering better customer interactions, innovating faster for new services, and integrating to a multi touch points approach – will ultimately be able to enjoy a clear advantage over their competitors.
The rules of business are being rewritten in line with today's digital lifestyle and only those business that evolve along these trends will win customers' trust and loyalty. However, embarking on such a digital transformation journey is not easy.
Although the majority of businesses expect that there will be significant digital disruption in the future, very few are adequately prepared to manage this disruption. According to Strategy&, although 77 percent of companies surveyed were aware of the importance digitisation, only 37 percent had a clear digital strategy with only 3 percent being at an advanced stage in their digital transformation. This clearly shows not all companies understand it fully, even if they acknowledge its importance.
Digital transformation allows companies to better engage with their customers and the marketplace. It does so by creating an open environment internally within companies that fosters innovation and collaboration – leading to higher workforce engagement and higher productivity improvement opportunities. Furthermore, it creates a platform for core business functions, such as finance, operations, HR, etc., to be automated – allowing employees to focus on larger business goals. In fact, tightly integrated digital strategies – backed by a step-by-step execution plan will prove to be biggest differentiator for companies that aim to thrive in today's digital environment.
However, for any digital transformation project to succeed, maintaining real-time visibility into the performance of new workplace technologies and how employees interact with them is critical. Many companies fail to adequately monitor how their employees are interacting with their evolving IT systems, which can lead to poor employee experiences (EX) and higher end-user computing costs (i.e., increased IT maintenance and support requirements). Fostering positive EX overall is undeniably critical for any business, as happy, motivated employees allow companies to more effectively innovate and deliver on key objectives.
If deployed in the right way, using these innovative tools can mean that digitally transformed companies end up creating better and more innovative products and services. This is because such companies are able to access a multitude of data points about all aspects of their business and use that to transform towards data-driven decision making – leading to better market positioning.
This has a trickle down impact on the channel and reseller partners as well, which is evident in a TechAisle report that argues digital transformation will benefit the reseller channel – as 41 percent companies in the channel business consider digitisation as a core part of their organizational strategy. Another 43 percent considered digitisation as an important sub-set of their company-wide strategy. Between these segments, it's clear that digital transformation – even at the channel and reseller level is here to stay.
Digital transformation is also playing a fundamental role in shaping the way governments in this region are adapting to new opportunities and challenges. The importance associated to digital transformation within the GCC is evident from the initiatives such as UAE Vision 2021, Saudi Vision 2030, Smart Dubai and the creation of a Minister of State for AI in the UAE. This increasing digitalisation across the region is enabling the growth of a new digital economy that is transforming the business landscape forever.
In summary, businesses across industry and regional lines are now increasingly looking at harnessing, and benefiting from, new innovative technologies as they embark on their own digital transformation journey within the connected world. And adapting quickly to today's hyper-connected environment is becoming a make-or-break proposition for their continued future survival.