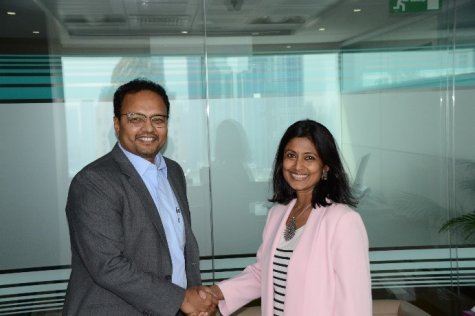 Emitac Enterprise Solutions (EES) and 3i Infotech, a global information technology company, have announced a strategic partnership to provide IT solutions to empower enterprises in the Middle East to address the challenges of the digital world.
According to the firm, Emitac's deep-rooted expertise in enterprise infrastructure and managed technology solutions seamlessly dovetails with 3i Infotech's global experiences in application development, business optimisation services, mobility, and data analytics.
Mohua Sengupta, EVP and Global Head of IT Services, 3i Infotech said, "We are extremely pleased to be associated with Emitac Enterprise Solutions. Undoubtedly, this association helps us expand our footprint. I foresee huge synergies in this partnership that will unlock new business opportunities with our solutions landscape that is well integrated across domains and emerging technologies like Blockchain, AI and IoT. We will endeavor to add a unique value here. Our continuous strive will be to provide customers with advanced technologies that enable them to meet their critical goals of accelerated business growth and innovation. Digital transformation is our overarching focus area and will continue to be our key strategic theme in the Middle East region. Solutions and Integrated frameworks are our USP which we plan to leverage on."
"We are delighted with this partnership of Emitac Enterprise Solutions (EES) and 3i Infotech. Emitac Enterprise solutions is transforming itself into next-gen digital solution provider through hiring the right talent in business transformation space and partnering with companies like 3i Infotech. Through this partnership, we look forward to helping our existing and future customers to enhance performance and fast-track innovation within business processes and eventually deliver tangible benefits to end users. It will add significant scale to our current offerings, and we also announce to the Middle East IT world that we are transforming into a next Gen IT Company," said Gautham Raj, CEO, Emitac Enterprise Solutions.