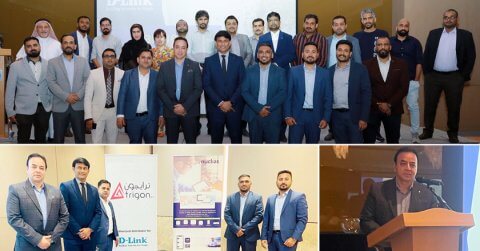 Experts have noted that there is an increasing number of connected devices in homes, and that households now require similar technological capabilities for small office / home office segments. This trend was further accelerated during the Covid-19 pandemic, as more people have been working remotely from home. These observations were made at a partner seminar held in Bahrain by D-Link in collaboration with Trigon WLL in Bahrain, the authorised distributor for D-Link products in the Kingdom of Bahrain.
Sakkeer Hussain, the Sales and Marketing Director of D-Link Middle East, stated that due to the Covid-19 pandemic, hybrid work models became popular worldwide and in this region. As a result, every home has now become a home office. Even though lockdowns have been lifted, many companies still prefer this model, and D-Link's networking devices help consumers keep up with this trend while providing enterprise-level networking at a reasonable price. Hussain also pointed out that with the increasing technology needs and the constant concern of cybersecurity for businesses, working with a trusted brand like D-Link, which has been in the market for 36 years, is the better choice for enterprises.
Trigon's General Manager, Kamran Khayal concurred, adding that Trigon and D-Link have worked together for 25 years to provide top-notch products to Internet Service Providers (ISPs) like Batelco, STC and NueTel, as well as organised retail and traditional resale customers.
Khayal mentioned that their company has a proven track record, having worked with clients in various industries including education, hospitality, healthcare, and retail. They have successfully completed large-scale projects such as Dubai's Expo 2020. As a prominent ICT Distributor with more than 25 years of experience, Trigon acknowledges the significance of innovation in today's constantly evolving market. The company incorporates innovation into its daily operations in numerous ways to remain up to date with the latest technologies and trends. This enables them to provide their clients with innovative solutions that are currently available in the market. With their extensive experience and technological expertise, Trigon is well-equipped to be the ideal partner for firms and consumers of all sizes and technological needs.
Yasir Arafat, Trigon's AVP, expressed that D-Link is a well-known brand worldwide and is continuously upgrading its product portfolio according to the latest trends and customer demands. Trigon and D-Link are in perfect synchronisation, and Trigon's presence in Bahrain with ample manpower and warehousing facility gives them the confidence to seize any opportunity that comes their way. Trigon is eager to extend its reach in the B2B sector and replicate their success stories from other GCC markets. Trigon's primary focus is to support their customers in adapting to changes and help them thrive in hybrid workplaces. Together, Trigon and D-Link can offer comprehensive solutions ranging from open source to value-based solutions, which is the current trend in the market.
During the training session hosted at Hotel Rotana Downtown in Manama, the two companies exhibited their latest range of D-Link products. These products consisted of home security cameras and network equipment that incorporated Artificial Intelligence (AI), such as switches, routers, Wi-Fi extenders, and structured cabling. In addition, the event featured a recognition ceremony that acknowledged Trigon's important partners in Bahrain, such as Batelco, STC, and Sharaf DG.