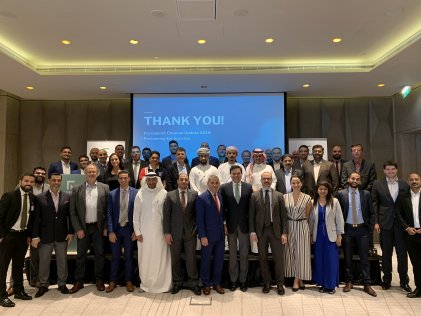 Global cybersecurity company Forcepoint hosted its channel event to update partners on the latest product developments and strategic direction of the human-centric solutions the firm offers. Hosted in Dubai at the Five Palm Hotel, the event was attended by delegates from KSA, UAE, Egypt, Kuwait, and Oman. During the event, the vendor awarded its regional channel partners by recognising their achievements in 2018 and their contribution to the brand's growth in the Middle East.
Forcepoint has also launched its new channel partner programme, designed to enable focused partners to offer integrated solutions, helping customers to capitalise on the business benefits offered by digital transformation.
During his keynote session, Oni Chakravartti, VP, Global Channel Sales, Forcepoint, said, "This event brought our channel partner community under one roof to celebrate their invaluable contribution to the brand's success and growth across the Middle East. Forcepoint's human-centric approach to security enables our customers to protect their people and critical data against the most sophisticated attackers, while freeing them to conduct their business in the most efficient and agile way possible.
"Digital transformation offers huge opportunities but also presents great challenges, and by enabling our partners to assist CISOs to manage network security centrally, in a dynamic and multi-cloud manner, we know we are setting them up for great success."
The Middle East Channel Partner Award winners for 2018 included:
Highest Growth Partner – Security Matterz (KSA) and ITQAN Al Khaleej Computers (UAE)
Highest Pipeline Generated – InFort (Egypt) and Seven Seas computers (UAE)
Most Complex Deal – AFLAK Solutions for Communications and IT Ltd. (KSA) and ITQAN Al Khaleej Computers (UAE)
Most Enabled Partner – Hemaya Information Technology (Egypt) and Paramount Computer Systems (UAE)
Technical Champion – Asem Shashaa from StarLink (KSA) and Firas Ghatasheh from StarLink (UAE)
Most Value-Added Distributor – Mideast Communication Systems (Egypt) and Arrow (UAE)
The event educated Forcepoint's channel partners about innovative digital transformation strategies in cybersecurity and the opportunities to grow. With Forcepoint's risk adaptive protection, cybersecurity programs, processes and technologies can be uniquely applied to the individual, rather than just to broad groups of users within the organisation, thereby lowering overall risk, accelerating business transformation and reducing cost.