The strategic agreement will bring enhanced OT capabilities and diversity to the security offerings in the region.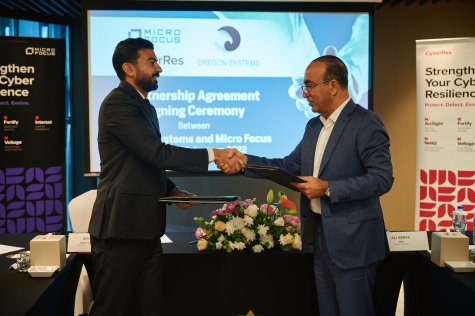 Oregon Systems, the leading OT security distributor in the Middle East region and CyberRes-a Micro Focus line of business, have signed a strategic distribution partnership for the Gulf region. This collaboration combines the excellence and expertise of both companies and creates unparalleled opportunities for a stronger and more diversified portfolio of products and services in the region.
Commenting on the partnership, Manu Nair, General Manager, Oregon Systems, said:
"Oregon Systems has been known for several years for bringing in new and specialised technologies to this region especially for OT/ICS Security domain. Also, since we have developed a reputation for working as ICS Security consultants with our partners and customers, they always keep coming back for more. Micro Focus brings in an additional depth into our product portfolio. The demand for OT SIEM is at peak and with Micro-Focus's current and future offerings, especially with the kind of references they have with regard to critical infrastructure clients, we're confident that we will be able to position the solution with multiple customers in the regions and fulfil the requirement."
With the collaboration agreement, Oregon Systems, with its extensive channel network and technical teams across the MEA region, will work closely with vendor expert teams to explore new opportunities and generate more brand awareness for Micro Focus.
Ibrahim Azab, Regional Sales Director, MEA, CyberRes – A Micro Focus line of business, said this partnership signifies a turning point in OT & cybersecurity.
"OT & cybersecurity are matters of national security, which mean greater responsibilities and commitment to our customers. Therefore, getting someone deeply specialized in the OT domain, like Oregon, adds excellent value for our customers and we expect this to add momentum to our growth and diversification," he said.
Naman Taldar, Regional Channel Manager at Oregon Systems, said the company's USP is its specialized niche and highly experienced team.
"Ours is a purely channel-driven organization and does not do business directly with the customers. Oregon Systems is purely an OT security distributor and our focus is mainly on ICS-cybersecurity. Our domain is very well-defined and we are the masters of it. Eight out of ten critical infrastructure clients in the region are already our customers because of the vendors in our portfolio. All these vendors complement each other. At Oregon Systems, we have developed a Zero-Trust architecture which has already been approved by most of the OEM vendors. Also, it has already been implemented in most of the critical infrastructure clients in the Middle East."
"Our technical team is highly skilled at what they do. Our engineers are the backbone of our business and they are IEC 62443-certified. They are well aware of the day-to-day challenges which a customer faces in the organization in order to comply with industry standards. Hence, Oregon Systems is a frontrunner in the ICS/OT systems space," he added.
Arun George, SecOps Sales Lead, Emerging Markets, CyberRes – A Micro Focus line of business, stated that customers in the OT space can greatly benefit with a partnership with them.
"At CyberRes – A Micro Focus line of business, we strengthen our customers' cyber resilience by delivering insights, protection, and compliance combined with security analytics. Specific to the Operational Technology space, which supports the critical infrastructure of the nation, we already have existing customers and we help them prepare for, respond to and recover from cyber threats – thus ensuring both cyber and business resiliency. OT/ICS has five levels of critical infrastructure and our technologies monitor each of these levels to provide real-time information to customers as well as integrate natively with other OT/ICS security solutions," he added.