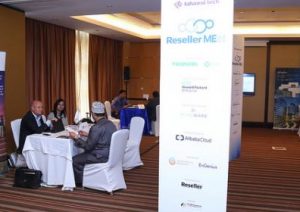 Reseller Middle East concluded the third edition of its enterprise channel event – Reseller MEet, at Conrad Hotel, Dubai, on a high note.
Held on 11th May, the event hosted around 50 pre-determined dedicated meetings between vendors, solutions providers, resellers and distributors. The customised event provided a platform to converse with partners in a unique format that allows a mix of methods to interact – one-to-one meetings, company booths and private lunch.
Sudhakar Raman, business development, account management, Synergy Software Systems, said, "With a unique format, Reseller MEet offers a platform for technology players to explore the possibilities of collaborative approach for mutual organisational successes."
Manohar Chirakkal, deputy general manager, Managed Services, MEA, Ensure Services, "I had a good and long interaction with some premium vendors and resellers. The event added immense value to our business as Ensure is a systems integrator and services company."
Having a robust channel ecosystem in place is essential for a company to grow and develop in a specific market. Ensuring these relationships are sustained over long-term brings in additional benefits for organisations.
Reseller MEet brought together relevant partners from across KSA, Oman and UAE markets who are looking for innovative solutions, healthy margins and new ways to grow their business.
Philippe de Mazieres , general manager, Gulf Software Distribution, said, "We were happy to see that the quality of the event was excellent and had an opportunity to connect with potential business partners from Oman. We look forward to future editions of the event where the focus will be extended to other GCC markets as well."
Reseller MEet was backed by several sponsors such as Strategic VAD Partner, Redington Value; Strategic Technology Partner, HPE; Strategic Innovation Partner, Mindware; Strategic Cloud Partner, Alibaba Cloud and Event Partners, Gulf Software Distribution and EnGenius.