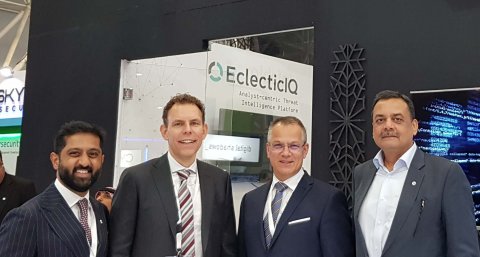 Regional cybersecurity VAD Spire Solutions and EclecticIQ, a provider of applied Cyber Threat Intelligence technology with an analyst-centric Threat Intelligence Platform (TIP) and unique fusion center services, have announced a partnership to strengthen the security threat posture of organisations in the Middle East.
EclecticIQ empowers threat analysts to perform faster, better, and deeper investigations while disseminating intelligence at machine-speed. EclecticIQ's products will be showcased at the Spire Solutions stand CDS-B3 during the Cyber Defence Summit in Riyadh, Saudi Arabia on February 13th and 14th.
"EclecticIQ is a unique threat intelligence platform that does not just aggregate threat feeds. But instead it is the only TIP that has a holistic approach built to consolidate, analyse, manage, action, collaborate and disseminate intelligence and reports. We are excited about complementing and augmenting our threat intelligence and digital risk protection story with EclecticIQ," said Avinash Advani, CEO, Spire Solutions.
"Threat intelligence is one of the fastest-growing areas in cybersecurity across multiple industries. But doing it right is the key. In partnership with Spire and their network with local trusted partners, we will provide customers in the Middle East with a solution that takes care of the multi-source correlation of intelligence and performs in-depth analysis to derive real value in the simplest way," said Herro Zoutendijk, regional director MEA, EclecticIQ.