StarLink, the fastest growing "True" Value-added Distributor (VAD) in the Middle East, Turkey, and Africa (META) region, today announced an agreement for the distribution of F5 solutions across the Gulf and Levant.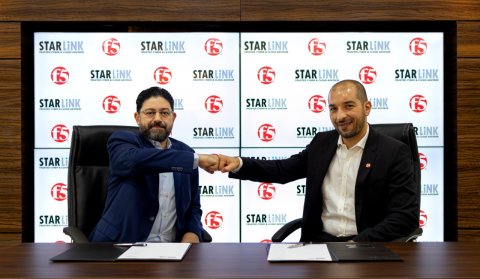 A global leader in multi-cloud application security and delivery, F5 empowers its customers – the world's largest enterprises, service providers, financial and educational institutions, government entities, and consumer brands – to create, secure, and operate applications that deliver extraordinary digital experiences.
Fueled by automation and AI-driven insights, these applications naturally adapt based on their changing environment so companies can focus on their core business, boost speed to market, improve operations, and build trust with their customers. By enabling these adaptive applications, F5 – with its NGINX, Shape Security, and Volterra technologies – offers a comprehensive suite of solutions for every digital organization in the world,
Mahmoud Nimer, President, StarLink, said:
"We are extremely pleased to partner with F5, a market leader in multiple domains – app security, traffic management, cloud security and optimization, as well as automation and orchestration. This is in line with our strategy to accelerate our customers' digitization journey by empowering them with best-of-breed solutions and services through our channel network. We have earned our trusted-advisory role through our expert sales and technical expertise, which is supported by a solid services arm, training academy and best-in-class operational excellence."
Nasser El Abdouli, Director of Channel Sales for the Middle East, Turkey, and Africa at F5, said:
"Our strategic partnership with StarLink will be very beneficial for business and organisations across the Gulf and Levant region. More than ever, F5 can secure and deliver extraordinary digital experiences by simplifying traditional application delivery, enabling modern app delivery at scale, securing every application wherever deployed, and using data to unlock the value of insights and automation."
Meet StarLink and F5 teams at GITEX 2021.
To book a meeting:  https://www.starlinkme.net/gitex2021