As children return to school, one company is determined to get students interested in science and technology.
In an interview with CNN, Dubai-based entrepreneur, Ehteshamuddin Puthur Abdul who has created Junkbot highlighted how the company appeals to the creative side of children to boost their interest in STEM fields.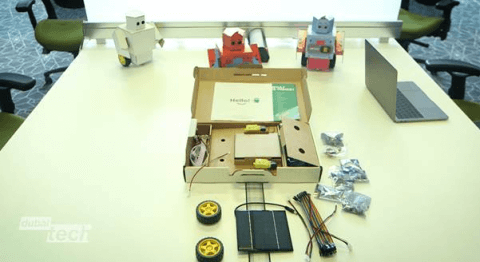 "Our idea is to give the first spark to the children to invent," Abdul told CNN. "Most kids have the impression that robotics is hard, it's not for me. But when they see a cardboard box or a coffee cup converted into a robot, they start thinking, okay this is something I can do, and then they start exploring things."
Abdul highlighted that 75 percent of the future jobs actually require STEM skills. "STEM is science, technology, engineering, arts and mathematics, and 80 percent of college students are not well prepared. Kids need hands-on experience to get into this."
Established in 2015, Junkbot provides a simple do-it-yourself education-kit containing electronic components and sensors that can attach to practically anything. It enables children to make robots out of used household items, such as toilet paper rolls and even old shoes.
A software application is then used to program the robot from a smartphone. Junkbot's aim is to get children interested in robotics and in the critically important area of STEM education.
The start-up puts its success down to the support it received from in5 – a creative space and mentorship facility in Dubai's Internet City.
In5 wants to attract more locally educated innovators and inventors and believes that government support and start-ups like Junkbot will help them achieve that.
Anmar Al-Malik, managing director, Dubai Internet City, said, "What's happening across the governments in the UAE and the vision of innovation and Dubai's strategy and the UAE strategy is it is supporting the education when it comes to technology. Any innovation that happens across the region or any country, has to be sustainable. The only way it will be sustainable is if you have good talent coming into the market. And this can only happen if the education system supports that. If you have things like IN-5 and the programs that we have here and the numerous events we have. So, the success of this ecosystem cannot happen without the education that comes with it."