CAFU, the MENA region's first on-demand delivery app for motorists has partnered with soil, plants and drone experts to announce an ambitious project in a commitment to fight climate change.
The one-of-a-kind project has seen the development of specialised drones supported with sophisticated back-end-technology, which will allow the startup to plant more than one million Ghaf trees in the UAE.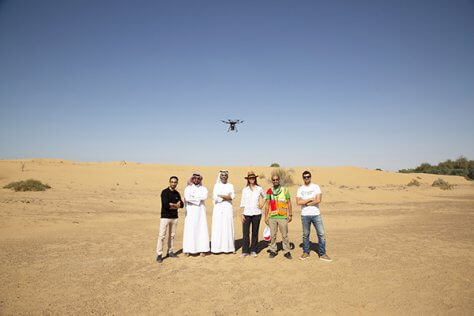 In a pilot project in December 2019, 4,000 seeds were planted by drones in Sharjah. The dedicated area will now be monitored to evaluate the project's early success.
Rashid Al Ghurair, founder and CEO, CAFU, said, "When I first witnessed the devastating impact of wildfires across the world, I wondered whether there were ways to leverage our technology to tackle this problem. With climate change already a reality, we believe that as a business we have an increased responsibility to play a role in delivering solutions."
Al Ghurair said, "By leveraging our own technology capabilities, and bringing together leading minds from across sectors, we are proud to launch this initiative, to reduce levels of carbon dioxide from our direct environment. The Ghaf Tree is indigenous to this region and our mission to plant one million trees is reflective of Dubai's philosophy of not just being innovative but building solutions for future generations."
The Ghaf tree – which was the symbol of the government's 'Year of Tolerance' campaign – is an indigenous tree that is able to survive in the region's harsh conditions. Its roots penetrate the soil up to 80 meters deep and require a minimal amount of water and maintenance to be able to absorbs up to 34.65 kg of carbon dioxide per tree, per year.
CAFU – which aims to scale the technology into other regions of the world using different plants- is currently available to customers in Dubai, Ajman and Sharjah. In addition, CAFU has announced the creation of a R&D center at Sharjah Research, Technology and Innovation Park.