The UAE Space Agency today signed an Agreement of Funding with Krypto Labs, the Abu Dhabi-based innovation hub and incubator.
As part of the agreement, the UAE Space Agency will facilitate the development and implementation of the GeoTech Innovation Program, which aims to accelerate the growth of three start-ups, enabling them to transform their innovative ideas into commercially viable and scalable market-ready products.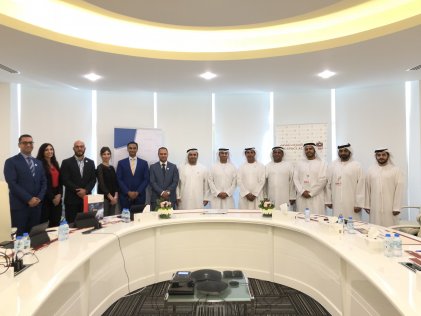 The signing took place today at the UAE Space Agency headquarters, and was attended by Dr. Ahmad Belhoul Al Falsi, Minister of State for Higher Education and Advanced Skills and Chairman of the UAE Space Agency. Dr Mohammed Al Ahbabi, Director General of the UAE Space Agency signed the agreement with Dr. Saleh Al Hashemi, Managing Director of Krypto Labs and Chief Executive Officer at Algorythma. Also present for the signing ceremony was a delegation from the UAE Space Agency and a number of executives from Krypto Labs.
Dr. Ahmad Belhoul Al Falsi, Minister of State for Higher Education and Advanced Skills, and Chairman of the UAE Space Agency, said: "This agreement falls under the Agency's mandate and commitment to support local talents, cultivate their skills and encourage innovation. It is consistent with our strategic objectives to develop the next generation of space sector pioneer, support scientific research and develop local space exploration capabilities."
The GeoTech Innovation Program includes the selection of high potential innovators and entrepreneurs in three service areas: Urban and Rural Land Management (URM), Disaster and Crisis Management (DCM) and Coastal Border Security (CBS).
An initial online application phase of the program will be published by the end of September 2018 and will be open for six weeks. A judging panel consisting of UAE Space Agency experts, Krypto Labs' dedicated professionals and academic specialists will collaborate in the evaluation and selection of received applications. The panel of judges will select up to three winning start-ups who will be awarded the unique opportunity to take part in Krypto Labs' unique incubation program.
The GeoTech Innovation Program will end in a final pitch event, where the winning start-ups will be invited to take the floor and showcase their products. The final event will include a "Made in UAE" exhibition and "Capacity Building" training workshops, where entrepreneurs who are interested in the program, but not selected among the top three finalists, will engage with business mentors, angel investors, and public and private sector leaders to expand their network, secure funds and adopt first clients.
Dr. Eng. Mohammed Nasser Al Ahbabi, Director General of the UAE Space Agency, said, "Capacity building programs form an important part of our mandate to oversee the continued development of the local space sector, ensuring that it receives sufficient expertise and opportunities for the upcoming generation to capitalise on. With the space sector poised to contribute to more and more socio-economic development, the GeoTech Innovation Program will play a significant role in identifying, facilitating and advancing local entrepreneurial efforts in a range of fields related to space. Furthermore, with a focus on youth and our future space pioneers, this initiative will bolster the UAE's position as a competitive international hub for space sector start-ups in a diverse and business-friendly environment."
Dr. Saleh Al Hashemi, managing director, Krypto Labs, stressed the importance of cooperation and coordination between Governmental entities and private sector institutions to establish a qualitative leap in all fields and said: "This agreement with the UAE Space Agency is a tribute to our role in embracing entrepreneurs and innovators in various fields, providing them with technology, consulting and smart solutions that help them conduct research and test their ideas and evaluate them according to the highest international standards. We are confident in the ability of this generation to provide creative ideas and solutions to serve the purpose of the GeoTech Innovation Program."