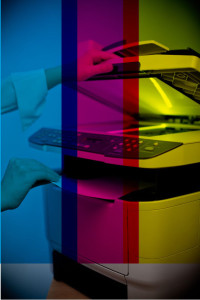 Multi-function printers (MFP) have been around since the early 1990s. In fact, today it will be hard to buy just a printer. Invariably it will have other functions; the MFP mainly includes scanning, copying, faxing and of course printing. Through certain MFPs, users can even email. One of the advantages of the MFP is the space-saving factor. Instead of making space for different equipment, companies just need to allocate space for one machine.
Over the last few years, colour MFPs have developed with better features and evolved to become integral machines in an office environment and even for home use.
Naji Kazak, Regional Channel Sales Manager, Lexmark International Middle East, explains, "Colour can improve internal efficiency as well. The biggest challenge facing corporate users is managing and using the piles of information that cross their desks. Using colour in internal communications raises the efficiency of workers by letting them quickly analyse complex data and by helping them to reduce errors. In addition, colour allows smaller firms to look more professional."
In the mid-segment, colour MFPs are increasingly replacing mono printers because of various reasons. "They now have the ability to print, scan, copy and fax in colour—and this is important because most business-related communications are becoming increasingly colour-centric in a world spoilt for choice," says Latik Gupta, Head-Enterprise, Jumbo Electronics. "Businesses wishing to stay competitive understand that external and in some cases even internal communication has to be presented in a visually appealing manner. Colour MFPs also allow for lower cost of ownership as well as reduced footprint since you get multiple devices in one, making them the most cost-efficient and compact option for large companies, SMEs and SOHO set ups," he further explains.
But what does this mean for the channel? According to a report by IDC, a market intelligence provider, the colour laser MFP market has had the greatest year-on-year growth, increasing 3.2 percent in the first quarter of this year. And the report further indicates that laser MFPs have witnessed an overall positive growth of 2 percent with markets such as the Middle East recording a double-digit growth of 13.2 percent.
"This presents a clear opportunity for the channel, which can capitalise on this trend as the Middle East is a market that is poised for growth in the adoption of color MFPs," says Manoj Ghai, Acting HOD, IT Sales Group, at Samsung Gulf Electronics.
Gupta points out that it also presents opportunities to upsell to existing clients as their business needs naturally evolve. "This is also an opportunity to strengthen client relationships through a consultative approach which recommends ROI and keeping up with business demands, rather than just pushing new products to clients."
According to Kazak from Lexmark, both IT and purchasing departments are seeing colour MFPs as necessary equipment. "The purchase of colour devices is driven primarily by a customer's operational business units. Our research has indicated colour doesn't need to be a cost or resource drain, it can even result in savings when compared to the cost of outsourcing," he says.
Cost reduction is a compelling reason to opt for a colour MFP. Kazak says that hidden costs such as shipping, storage, handling, retrieval and high printing volumes for lower cost-per-page are some additional expenses that organisations don't take into account when outsourcing printing. "Typically 30 percent of pre-printed documents are wasted and these costs multiply if the document becomes outdated in case of legal or financial reasons," he adds.
For these reasons, businesses, irrespective of size, are discovering that investing in colour MFPs presents huge saving potentials. And according to a survey done by Lexmark, colour printing can help companies take a more efficient approach to printing and lower costs as employees take a far more considered approach when using colour printing and are more conscious of the costs involved.
But besides cost savings, innovations in MFPs are also making it an appealing choice for many businesses, such as server-less mobile printing solutions. "These innovations are becoming popular with organisations of all sizes. With our channel partners around the region, we aim to inform and educate the region with the benefits of our products and lead the way in innovation and design," says Hendrik Verbrugghe, Marketing Director, Canon Middle East.
"From convenient personalisation and authentication as standard, to efficient end-to-end document workflows, MFPs address the document processing challenges and help companies work efficiently and smartly," he further adds.
Beneficial for all businesses, sectors such as retail, manufacturing, design and education are heavily investing in MFPs. And not surprisingly, one of the highest operational budgets within enterprises comes from IT, says Ghai. "And specifically from the maintenance of hardware equipment such as printers. Printing solutions that deliver high quality and enhanced functionality are in high demand, particulary within industries that have an extensive use for colour printing, which nowadays we believe is every business," he adds.
The road ahead seems promising but what will govern the evolution of colour MFPs in the future are the technologies it can support, the functions it can integrate and the possibility of it contributing to a greener environment.
Ravinder Kumar, General Manager, Business Solutions Division, Sharp Middle East, says, "Colour MFPs are getting more and more advanced to meet the emerging needs of today's busy and increasingly mobile workforce. As businesses continue to recognise the power of colour MFPs, manufacturers will enhance the utility of those devices to meet market demands with new technologies and software solutions."
Kazak says that the company allows its customers to access its technology via the cloud, to help them save on costs—a capability it has been providing to large customers as part of its managed print services for many years.
"The opportunity to be able to print a document, store it in the cloud and retrieve it from almost anywhere is a SaaS capability that Lexmark can give customers that is almost exactly the same as printing inside the office. This allows the increasing number of staff using tablets and smartphones on-the-go to capture and print information more easily than before," explains Kazak.
And this leads to the issue of security. With emerging technologies such as the cloud, manufacturers and software developers need to see how it can be done over secure networks.
Lexmark believes security is another way forward, and this is built into the company's cloud-based offering. "Anything customers print or retrieve that has been printed is sent over a secured cycle layer or SSL. Customers also have multiple ways of identifying themselves (username, password or badge)," further explains Kazak.
According to Ahmed Qasem, Channel Sales Manager, Epson Middle East, there will be lot more development in inkjet technology to enhance the advantage of power consumption. "Everybody is looking at green, our inkjet products are all green because it can achieve 85 percent power saving," he adds.
Gupta from Jumbo Electronics agrees going green is another opportunity with MFPs, while also improving the bottom line simultaneously. "Reputable MFP brands include the added benefit of functionality enhancements and managed print services, which allow users and administrators to review and hence reduce unnecessary or redundant jobs, monitor consumption and costs, manage rights and access, and much more," he adds.
Eventually, if they are to capitalise on the growing MFP market, resellers will need to understand their customer's demands so that they can easily identify sales opportunities. "After all, when a business is in desperate need of an upgrade, they will turn to resellers and dealers to provide them with the best recommendation for their business," concludes Ghai from Samsung Gulf Electronics.