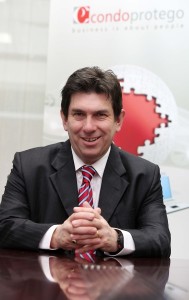 Condo Protego CEO Andrew Calthorpe puts the spotlight on some of the key trends likely to make a mark in 2014.
Time flies when business is booming, and it is hard to believe that 2014 is already upon us. The past year has been a whirlwind of positive activity across the industry and, from personal experience and through extensive peer interaction, good times appear to lie ahead for VARs prepared to get stuck into what is undoubtedly the most complex yet opportunity-rich IT landscape yet.
Big Data, small surprise
Big Data will stand out like a predictable sore thumb in 2014. With IDC predicting that the global Big Data market is set to continue its 40-percent-per-year growth, there will be plenty of action for all those able to lend a constructive, helping hand. Storage will figure heavily, with business research specialists Aberdeen Group suggesting that many companies will have to double the volume of their data storage every 2.5 years just to keep up. Across the board, there will surely be a shift from merely coping with the deluge to thriving with it, and moulding it to drive business performance and innovation.
The clouds keep gathering
Equally predictable perhaps is the lingering and intensifying momentum of cloud computing. According to IDC, the UAE's cloud market is primed for annual compound growth of 43.7 percent until 2016. It will be fascinating to see how this plays out in the next year. Whether it is public, private or hybrid applications, adoption will need to be carefully planned and implemented. Cloud computing can be powerfully augmented with existing infrastructure and embraced as appropriate. It shouldn't be seen as a drastic, scary change. Done correctly, it should be a gradual and seamless evolution to greater efficiency, flexibility and cost-savings.
Disaster recovery goes small
In 2013, we saw increasing numbers of Middle Eastern SMEs start to take on serious disaster recovery (DR) and business continuity (BC) solutions. Expect 2014 to continue this trend in a much bigger way. It is up to VARs like Condo Protego to highlight the importance of a clearly defined strategy here. The first step is to understand what you are dealing with, what are you trying to protect against, and how your business will cope in the event of a disaster. Only then you can start to focus on the IT side. A DR/BC plan should always be implemented as soon as possible. The more data builds up, the more expensive it becomes. By establishing a reference architecture early on, businesses can plan and scale in the most efficient manner possible.
Systems integrators to collaborate
For systems integrators, collaboration will become the name of the game in the coming years. Clients are no longer happy with generalists and are increasingly looking for specialist input. Across the industry, this will require a step-change away from working in silos to establishing precise, tightly configured systems integration teams to suit specific projects.
Mind the (skill) gap
Of all the challenges facing the IT industry, VARs included, skill shortage is likely to prove one of the most awkward. The industry also needs to be better at retaining talent—both for long-term project execution and knowledge transfer. Awareness needs to be raised that some of the most challenging and rewarding IT work on the planet is taking place in this region. And the best is still yet to come. So with that, all that's left is to wish you every success in 2014. Happy New Year!