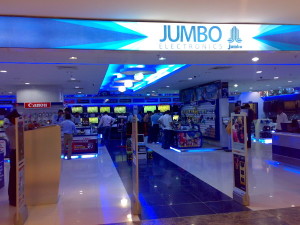 Alcatel-Lucent has signed a unique deal with Jumbo Electronics to refresh and renovate its data centre, LAN infrastructure and Wi-Fi services, the vendor revealed.
Alcatel-Lucent believes the announcement is significant, as it provides these services to one of the leading electronics retailers in the region.
The agreement will have Alcatel-Lucent upgrade and refresh Jumbo Electronics data centres, LAN infrastructure and add Wi-Fi services at their Dubai Headquarters. To complete this end-to-end solutions delivery, Alcatel-Lucent's Premium business partner, Al Futtaim Technologies, was chosen for deployment and maintenance of this network. The agreement is believed to be a major boost for Jumbo Electronics data centre, and will contribute to reduced costs, lower energy consumption and improved workflow.
The agreement is a major stepping-stone for Alcatel-Lucent's presence in the region. Commenting on the announcement, Vikram Dhar, Enterprise Sales Manager of Alcatel-Lucent stated, "We are delighted to have the opportunity to work with Jumbo Electronics here in the region. It gives ALUE the ideal opportunity to showcase our innovative technologies especially in the data centre space."
Adding to the importance of the announcement V. Suresh, Head of the Management Services Division at Jumbo Electronics stated, "It has been an absolute pleasure to have been associated with Alcatel-Lucent. Their frequent customer visits to the Jumbo offices and focused commitment into training our staff easily makes them our ideal IT partners. Their support will indeed add great value to Jumbo's IT networks; and we look forward to a long standing and successful relationship."
Alcatel-Lucent has implemented the 9702e core switch into their data centre, which has all the servers available, The Omniswitch 6900 has been used as the TOR Switch (Top of Rack) to which the servers are connected. In addition there are 6450 switches in the LAN to which the users are connected and a AP105 with a 6000 series Wireless LAN controller, along with an Omnivista Network Management system.