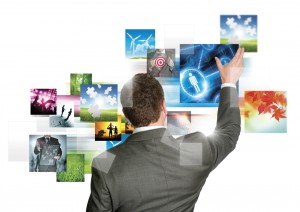 There is nothing really new about information lifecycle management (ILM).
In the simplest terms, it is the work of organisations to create, assess and track all of its data information from the cradle to the grave in order to profit the most from it.
"Lifecycle management is very important for several reasons including cost cutting. As data continues to accelerate and grow, we need to manage its life. Primary or SANs storage is very expensive to use to store your data. You have to tier your data to find out what is important to place the right data at the right time at the right costs," says Basil Ayass, enterprise product manager at Dell ME's commercial business.
"Many business leaders argue that we live in information and digital economy where data is becoming the center of gravity in business. Numerous companies' business models and supply chains are built around data, and data is created, captured, consumed, transformed and analyzed in every phase in the value chain in real-time. In fact, some companies have no real assets but data and they live and die by data – think facebook, think linkedin and skype, and to lesser extend airlines, banking, telecoms and other several sectors," says Ahmad Muammar, technology consultant manager for KSA at EMC.
Steve Bailey, regional operations director at CommVault states, "Understanding and managing the lifecycle of data is very important for customers. For many reasons – the retention of data in todays world is becoming more relevant to many customers as various legislative and local policies are enforcing them to retain data for longer. However, just retaining data is not the answer. You need to treat the data appropriately depending on its relevance to the organisation at any one time and this is where, Data Lifecycle Management (DLM) comes into play. For example, think of an email. There is a requirement to keep the email for 5 years. On day 1 the email is very important and people are making decisions based on it so DLM tools such as Snapshot, and Backup are being used to protect it. However, after 6 months of not being accessed, the email is of less relevance so needs to be archived onto less expensive but still accessible storage. This is an example of how DLM is used in practice and why it is important when managing the growth of data."
While no one can dispute the importance of ILM, the entire process requires several carefully regulated stages, that can prove to be a challenge for the most efficient organizations. The first step in this demanding process is keeping track of the creation of data itself.
Ayass says, "It is impossible to capture all data that is created especially in the multi-device world we live in. Employees are carrying multiple devices to access and create data. That's why the aim of all data lifecycle management should not be to capture all data but to classify data in order to identify sensitive or confidential data for governance and regulatory requirements."
Muammar adds, "Globalization, social media, creative society, technological advancement, complex supply chains and regulations have created information explosion in parallel with the rise of predictive analysis as a competitive potency to transform business and IT. This has forced companies to look around and collect data from variety of sources in order to create meanings, streamline operations and help in the decision making processes.  In order to do this, data – internal and external, structured and unstructured – have to be in the center point of the company strategy where people, processes and applications are all settled around it."
Bailey says, "Enforcing DLM polices across all data types can be both complex and cumbersome if organisations are trying to introduce DLM where they have many products in play that are each doing a part of DLM. If the organisation has one product managing the snapshots, another product taking backups of the email and then a difference product archiving the email to less expensive storage, then trying to define a DLM policy that both captures all of the data and adheres to the organisational SLA's would be very difficult. Organisations need to rethink a multi-product approach if DLM is an important consideration and assess solutions that can deliver all aspects of a DLM solution within a single platform. Only then can they be assured that they are capturing all data from the point of creation to the point of deletion."
Then there is the all too important task of data classification.
Ayass states, "Data classification at the creation stage of the process is paramount to lifecycle management. To understand what important data is, you need to classify it. Classifying has to be as automated as possible."
"Data classification plays a very important role in lifecycle management. Without data analytics, organisations will never fully understand the data they have and as importantly, how to classify, group and understand the importance of what they have. It is all well and good saying 'we have 100TB of data to protect' but without understanding what the 100TB is, where it is stored, when it was last accessed, who are the data owners, what part of it is mission critical etc – then they will always have a problem that won't go away. Let me clarify this point a little more. Data is growing. That is a fact. Equally, data is important to us. Data is Information and Information is Knowledge and Knowledge is Wisdom. However, this path is only possible if organisations start to classify there data and fully understand what they have," says Bailey.
Muammar adds, "You manage what you measure – and data is not an exception. The value of the data needs to be qualified and quantified in order to achieve the equilibrium point between value of data and the burden of keeping it. The value of data, is not only a reflection of its content, but rather a multi-dimensional metric that addresses several aspects; i.e., the cost of losing it, the benefit of dealing with it in real time or amplifying its value by collaboration, the risk of exposing it to competition, etc. Date classification exercise plays a key role in uncovering the value of data to assign it the right service level."
Ayass also points out, "If you start the process of classification at creation, then recognizing the end of time becomes a simple task. In the older days you used to be able to shred papers you don't need. Now the bulk os a business's data is stored in electronic format on hard disk drives which complicates the retirement stage of data lifecycle management. Dell offers an option to our customer when they to keep  keep their hard disk drives at product return to help align with their lifecycle policies."
Regional reactions
Even when broken down in to consistent parts, ILM can be a daunting task plagued with various challenges.
Ayass says, "In the past, data lifecycle management was challenging is it relied on expensive technology and needed extensive manual intervention. This required process re-engineering and careful change management policies. Today, Dells fluid solutions are able to automate the process of lifecycle management. To face the challenges, organizations need to plan and use best practices to gain employee acceptance. Employee buy-in, management support,  and follow up is crucial is crucial to a project's success."
Bailey adds, "The main challenges involved in defining a DLM process is ensuring that both the business owners and IT department within the organisation are equally involved in defining the process. One cannot work without the other. If the IT department works on the process without getting input from what the business requires, then they will end up with an ineffective DLM process that does not meet the organisation's requirements."
Due to these challenges, and also a prevailing mindset that  fails to see the bigger picture, ILM remains on the back burner of most Middle East enterprise investments.
"In my experience, data classification is still in its infancy in the Middle East in terms of organizations spending the correct amount of time understanding what it is they have. Most organizations miss this vital step out of the DLM cycle and focus on the data movement aspects of DLM such as backup and archive. This omission often leads to inefficient DLM processes, not to mention increased DLM costs. Fully deployed lifecycle management solutions in the region are still in their infancy. Many organisations have deployed aspects of DLM such as backup/recovery, replication, archive and search solutions but very few have deployed a full solution based on a governed DLM requirement," says Bailey.
Ayass agress, adding, "Lifecycle management is an emerging trend, and we at Dell are seeing more enterprises investing in it across the region. What's driving the adoption is that technology has matured to a degree where it is highly automated and affordable to a large set of our customers. We see more and more enterprises taking time to classify their data. We are seeing more adoption in industries with highly sensitive information such as legal, financial and telco."
Nevertheless, with the rise of big data, and with increasing pressure from a connected world that demands compliance and security, regional organisations are likely to pay more attention to ILM, and its various aspects in the coming years.
"We have been working with many companies in the Middle East through the last decade to design and build their information lifecycle management (ILM) strategy. We have been investing billions of dollars to streamline many aspects of the ILM by building state of the art technologies across our entire portfolio. On top of that, we have accumulated vast consulting and services capabilities to help customers get the best out of their data with the minimum cost," says Muammar.
"So the simple answer is a large number of our customers are doing well today in terms of ILM. With the rise of big data and information overload, we are working closely with many customers to overcome the new challenge of storing data and helping them tapping on the opportunity of classifying and analysing it," he concludes.