Rohit Kumar, Sales Head-APAC & ME, 42Gears Mobility Systems, on its partnership with Bulwark and the technologies it is showcasing at GISEC.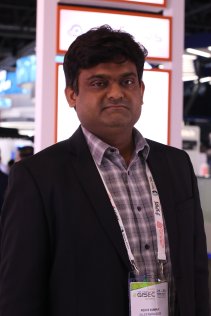 Tell us about 42Gears partnership with Bulwark.
42Gears has a solid partnership with Bulwark. We began our engagement around 4 years ago. We have our headquarters in India, we have offices in the US and the UK, but as a part of market strategy, we focus on localisation and key partnerships. I take care of the APAC region. So as a part of the strategy, we have a localisation which we do with our partners. Having said that, we have a very wide and growing market. We see a lot of potential in the region and that why we wanted to be associated with one of the leading distributors and partners who can take care of the local market requirements, technical analysis, POCs, demos and all other aspects. From their we connected with Bulwark where we are getting huge support. They have expertise in the product. They are extensively connected in the same industry. They have other partners who are working very well in the same technology. So, this has given us a good visibility in this market. And today we are having a very good mature business working with Bulwark.
Are you showcasing any technology solutions at GISEC?
We are a product-based company and we have our own product which is very much into mobile device management. And we have been an expert and industry leader when it comes to company-owned devices. We have huge deployments globally and the technology we are into is key for many industries in this region.
We have important customers here who are using our product to minimise the misuse of the devices. So, that is the technology which bring which we bring in to ensure device protection. There are also so many other related features that we provide with our product.
How important is this market for you?
The Middle East market is extremely important-most of the decisions from EMEA come from Dubai. We have been participating in GISEC and GITEX for a few years now and we have seen very enthusiastic response from companies in the country and the region. So sitting in Dubai, we are able to access all the major markets and we are looking to expand our footprint in this region. We see very good market growth here and there is lots of potential. Now, we are able to make good investments for a better ROI. So yes, this market is very, very important in our growth plans.