Sunil Titto, Director-Customer Success at Accops, speaks to Tahawultech about the company's partnership with Bulwark and the products it is showcasing at GISEC 2022.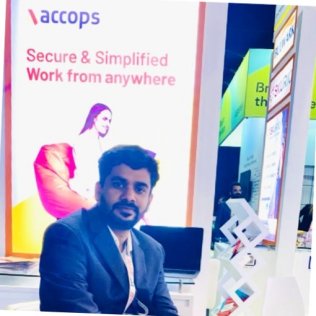 "It is a matter of great pride to be participating in a global event like GISEC 2022, said Sunil Titto. Being in the Zero-Trust space and the digital/work-from home realm, this is a great opportunity to see for ourselves the latest innovations and trend in the sector and exchange ideas and best practices with great minds," he said.
About the company's partnership with Bulwark, Titto said that they have a long and stable relationship with Bulwark. When we decided to enter the Middle East region, Bulwark connected with us and we were able to make some potential leads and attract key customers. So, yes, the relationship has been very fruitful and growing from strength to strength.
Titto said that at GISEC, Accops is showcasing its product suite. "We have 6 products, but yes, it is called Accops Digital Workspace, along with Zero-Trust network access. These are the two keywords we are selling, which includes complete access to a secure experience, both of the users and endpoints and making sure that customers get access to the right resource at the right time, without any security loopholes. Even data security is extremely critical for us," he added.
Accops is a frontrunner in helping companies transform digitally, and is trusted by a niche clientele. The company has a single integrated solution to take care of remote access, virtualisation, MFA, SSO, DLP & contextual access and provides affordable solutions that come with pre-integrated components, ensuring quicker deployments and substantial cost savings.
The main concern during the COVID pandemic, was that most companies were unable to effectively implement remote security and the security of remote connected devices. The immediate solution for this was VPN. But VPN itself is known for its vulnerability, because you are connecting to a network that is vulnerable to any kind of attack. So, Accops has stepped in to provide comprehensive, zero trust-based end user computing solutions, enabling secure and instant access to business applications to users who work from anywhere, any device and over any network. Accops Digital Workspace suite includes Application & Desktop Virtualization (VDI), Application Access Gateway and Identity & Access Management solutions, helping organizations to swiftly enable work from anywhere within days. Accops is a single-stop shop, taking care of all remote access, application virtualization, VDI, MFA, identity federation, SSO and thin client needs. Accops' products are highly modular to fit the needs of businesses of all sizes, providing seamless access to modern web applications, SaaS applications, client-server applications, legacy applications, virtual applications and virtual desktops.