Darren Craig, CEO, RiskXchange spoke to Tahawultech about the company's offerings at GISEC and its partnership with Bulwark.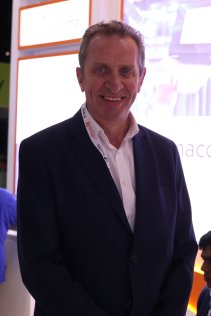 "It feels great to be participating at GISEC, especially this year, when most pandemic-induced restrictions have been eased and we are all free to meet and greet physically", Darren said.
Darren is the CEO of RiskXchange, the only platform that provides a complete 360-degree view of the attack surface, including that of the vendors. Its USP is that it will continuously monitor the complete attack surface, highlight any risk and enable you to fix any issues before the attacker discovers them. "RiskXchange's integrated cybersecurity risk platform helps you discover, continuously monitor and reduce the risk across your enterprise and supply chain", Darren said. "Attackers use leaked credentials data to take over employee's accounts with privileged access. These could be the accounts of board members, senior executives, developers, and systems administrators. The RiskXchange Account Takeover Prevention system can detect and alert these corporate credential exposures to help protect the organisation and stop attackers using leaked credentials to gain entry into the company's accounts and systems", he added.
About Dark Web monitoring, he said: "Data exposure is inevitable. RiskXchange prevents your company from a data breach online by continuously monitoring a wide range of open, deep, dark web sources, including closed sources, used by attackers that target organisations. The RiskXchange Dark Web Monitoring system delivers accurate, actionable and configurable alerts, that will empower your security team to stop attacks by identifying threats before they impact your business."
RiskXchange is at GISEC at the Bulwark stand, where the pioneering Value-Added Distributor has joined hands with its strong cybersecurity specialised vendor portfolio for the event. Accordingly, the company is offering the latest technologies spanning Digital Risk Protection, Hardware Security Modules, Encryption, Smart ID/PKI Solutions, Web Application Vulnerability Scanner, Data Classification, Data Loss Prevention, Secure Managed File Transfer, Encrypted Flash Drives & Disc Drives, Email Security & Archival, PIM/PAM, Secure Remote Access/Workspace Virtualisation, Insider Threat Prevention, Employee Monitoring, Enterprise Mobile Management solutions, Cyber Skills Development / Training platform, SIEM in addition to their other security technologies at the event.