TahawulTech.com spoke with Sahem Azzam, Vice President, Middle East, Africa & Turkey, Orange Business Services, about data security, their vision for Industry 4.0 and the future of Digital Supply Chains.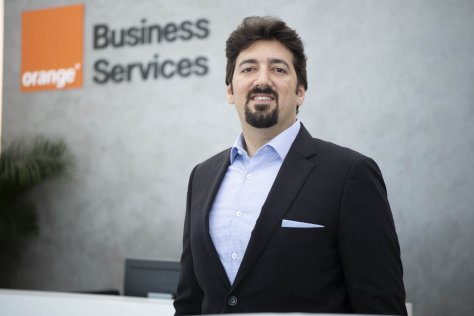 The COVID-19 pandemic created unprecedented cybersecurity challenges for companies adapting to the new normal. How did these changes impact your approach to providing data security and business continuity?
As a global network-native, digital services company, Orange Business Services supports customer digital transformation and the data journey. So, the 'now normal' of increasingly digital business models plays to our strengths in connectivity, digital services and cybersecurity.
The pandemic has highlighted vulnerabilities for many industries mainly with the new ways of working. Cybersecurity is now at the heart of most business decisions and a key element in business continuity planning (BCP).
The recent Orange Cyberdefense annual report (Security Navigator) identifies a number of cyber threat trends, including the new business continuity challenges as 'multi-cloud' environments emerge.
Our Business Continuity approach (ISO 22301 standard) is comprehensive but the cloud revolution represents a new challenge. The good news is that there are now cost efficient continuity and recovery solutions available for cloud environments but cyber threats will continue to evolve along with enterprise demand for cloud, network and video conferencing services, bringing new risks and BCP challenges.
Cybersecurity is really, a major issue because security concerns are one of the major barriers to digital transformation for many companies, potentially putting them at risk as competitors move ahead. Inaction is not an option as the opportunity cost is just too great.
How has your vision for Industry 4.0 panned out in 2021?
In 2021, accelerating digitalisation will continue to drive Industry 4.0 and we expect significant developments, as IT and OT teams become increasingly aligned – connecting data across both domains is essential for information and business continuity.
According to the Orange Business Services-sponsored IDC InfoBrief – The Road to Digital Transformation: Enabling OT-IT Convergence, there is an unprecedented data explosion in the OT space, exposing critical operational processes to more threats. So, successful industrial operating models will dependent on data management and security.
At Orange, Industry 4.0 refers to the creation of an intelligent, designed, interconnected ecosystem, which drives improved business and operational performance, reduces costs, and improves customer service. IDC Global Performance Index Analysis highlights a clear performance divide between digital and non-digital companies, but real-time integration enabling seamless data handling between IT and OT domains is often a distant goal.
Our own Head of Industry 4.0 International Business says that security concerns come into play and can create a barrier to integration. This fear of cyberattacks is preventing some companies from exploiting their digital potential – downtime and financial loss are the top two concerns.
Integrating IT and OT may increase vulnerabilities but appropriate security-related policies help mitigate the risk. A trusted third-party solution provider can help change the perception of cybersecurity as an enabler of digital investments and digital transformation.
The pandemic is giving manufacturers an opportunity to transform but how they react and embrace Industry 4.0 will shape the future of manufacturing.
Last year you collaborated on smart city IoT application with Abu Dhabi Municipality. In the year since how has this venture developed and are you planning any similar collaborations? 
The UAE and wider GCC region is a hotbed of smart city initiatives and innovation. Our 'innovation hub' at the regional centre of excellence for smart cities helps stimulate collaboration with customers. This has helped us develop innovations such as the smart city IoT Cockpit application that we piloted successfully with Abu Dhabi Municipality.
We have since worked on several other co-innovation projects in the region, focusing on IoT innovations in smart cities and industry. Most recently, we announced that we will design and build a new data center to provide cloud services for Egypt's 'New Administrative Capital' smart city.
Co-innovation is at the heart of what we do. We operate a 360° co-innovation ecosystem comprising Orange Group innovation teams, our technological, industrial and commercial partners, and access to a global start-up network. We work in partnership with our customers to develop solutions to meet the specific challenges of their businesses and industries.
All smart city projects create opportunities among the diverse range of partners involved to co-innovate and become incubators of new solutions and applications as new use cases arise.
Co-innovation is also essential for enterprise success in the digital era, from retail to supply chain to maritime. Every company in every industry is facing digital disruption as digital empowers new competitors to do things better, faster and cheaper, creating new customer value.
Smart companies are increasingly looking to suppliers, vendors, end-users, consumers, partner organisations, university labs and independent inventors for new ideas and insights.
These collaborations bring in new thinking, knowledge and skills to turn into real world innovations.
Research shows that companies with extensive innovation governance achieve twice the revenue growth of those that don't.  Our co-innovation board and investment fund assesses opportunities to co-innovate with our customers where our capabilities and objectives. To be competitive tomorrow, you need a diverse and balanced portfolio of projects in the co-innovation pipeline today.
Can you tell our readers about digital supply chains? What key importance do they have on the future of sustainable business?  
Of course, the pandemic has revealed not only the vital role of global supply chains but also their vulnerabilities and this is forcing us all to start to re-think and re-imagine supply chains, and how sustainability can be embedded along the entire chain.
Digitalisation is essential to make supply chains more sustainable and provide enterprises with real-time data, AI-enabled analytics and digital work instructions that will enable smart-decision making. These technologies, and other emerging technologies such as blockchain, will drive sustainable growth, increasing efficiencies, reducing waste and satisfying consumer demands for greener products and services.
Our own recent global research shows that the supply chains in 40% of multinational corporations could not cope with the global crisis and this has dramatically changed attitudes to risk. They are now looking for more speed, agility and innovation to cope with this change. Building resilience and sustainability into supply chains through digitalisation and real-time data insights is now a priority.
Artificial intelligence (AI), cloud, 5G and big data analytics will all play important roles in strengthening supply chains through improved planning and execution. These digital technologies are the key to reimagining the supply chain – digitalisation and data collection will help companies become more sustainable, reduce costs, and help protect the environment. For example, smart factories can save 30% of their energy costs.
According to the survey, the vast majority of companies are investing to become more sustainable, controlling factors such as energy usage. This is crucial because even after the pandemic subsides, climate change and sustainability issues are here to stay.