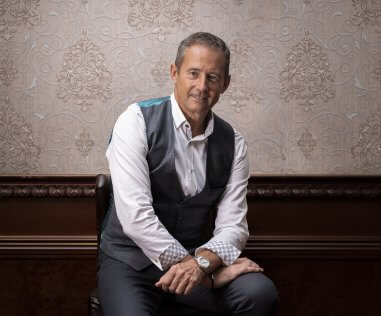 Gareth Hansford, general manager, Gulf Software Distribution (GSD), discusses how the firm empowers channel partners to take the lead on customers' digital transformation journeys through a solutions-oriented approach.
Over the past few years, the channel partner landscape has witnessed a significant transformation. Among the biggest changes that most players have seen and continue to see is that customers are in pursuit of partners who are solutions-centric rather than someone who is simply a problem-solver. Organisations seek technology providers and implementers who are looking to have a long-term association. When partners only solve specific problems or solely put forward products without addressing the overall circumstance or the challenge in its entirety, it can be quite short-sighted for their business.
Gulf Software Distribution (GSD) is helping and enabling partners to understand the importance of solutions selling and how it can significantly increase their business potential.
Over a year ago, when Gareth Hansford joined the regional distribution firm as its general manager, the key priorities were around building more people, clients and vendors.
"In the past year, we've certainly achieved all three of those," Hansford says. "The team has grown double in size, we've added more partners to our portfolio, but more importantly, we have also increased the number of vendor partnerships. This is where we can begin to add more value to our partners."
According to the GM, the firm's biggest focus continues to be around "driving growth" for its partner ecosystem.
"How do we help them extend their portfolio? We believe by taking on some of our new vendors, and even some of the new technologies from IBM, partners can extend what they already do."
However, Hansford adds that this does not require partners to revamp their entire operations but a simple change in strategy such as approaching existing customers with new offerings can be game-changing.
"This will help augment partners' next proposition. Everything we're doing is about growing partners' business. Their success is also our success."
Partner ecosystem platform
With the firm's biggest focus around driving growth for partners, Hansford says the company is now working on building a partner ecosystem platform allowing the channel community to collaborate and cross sell solutions opportunities.
While its key vendor IBM has something called the Embedded Solutions Agreement (ESA), where partners can cross-support their solutions, GSD is going one step ahead and creating a marketplace for partners to network, collaborate and zero in on becoming truly solutions-oriented.
"The contract from IBM enables partners to create solutions for business issues. They are able to add their own IP to the technology and solve customers' challenges. Partners can take full control of their offerings through the ESA. We're working hard on educating and supporting partners to effectively create their own products."
This means that while the underlying technology is IBM, the offering they sell is their own.
"This is really good for MSPs that are delivering services. It's great for companies where they are genuinely addressing a customer's issue and providing the solution to it. This is because, it then means that anybody who wants to compete, do so on level ground. They must have their own solutions as well."
Hansford points out that regional partners are more mature than their European counterparts. "I mean this in the sense of understanding the business issue and delivering a comprehensive solution, rather than just offering what the customer is asking for," he explains.
He adds that partners have to enhance their own skills and development to create that comprehensive solution, which is going to fix the issue rather than just an immediate requirement.
"This is what can be a true differentiator for partners and we are focusing our efforts in this area."
Further into the planned marketplace, which will be unveiled before the end of this year, Hansford says, "The objective is to find a way within the channel community and even end-users to begin promoting and demonstrating the products and solutions that partners have. If a partner has sold a solution, which solves one customer's problem, it then becomes a replicable offering."
Alternatively, there might be a partner who has successfully implemented a solution in a particular country and have no presence in any other geographies.
"If we can create a platform where partners are exposed to other peers' successful solutions offerings, we will be able to craft a collaborative environment where customers' challenges are prioritised."
Hansford says that the idea is extended from that of networking, however, because realistically there cannot be physical networking opportunities daily, he is looking to automate the entire process on an online marketplace.
Through this platform, partners can simply search for what they are looking for and the distributor helps to match them with a channel firm who has done similar work within its ecosystem.
"It's beneficial to everyone," he says. "Sometimes, when a market is too small to actually conduct a physical event, a platform such as this will go a long way."
GSD had started its own set of networking events during the first few months after Hansford joined.
"Those have been successful because it brings our partners together. Occasionally they may compete, however, more often than not, they support each other."
When a partner boasts a great relationship with a customer and is its trusted advisor, the end-user relies on their help to recommend another partner of a different skillset for a separate area of their problem, he says.
"In such a scenario, if the partner knows of another channel organisation that has that set of skills within our network, then both firms can team up together. They can collaborate and solve the customer's requirements. This is the ecosystem that we are working on. These kind of networking initiatives along with the communication that we do around our partners, help them to discover and support each other, for the sake of their customers' satisfaction."
Also, at GSD, the focus is to find select partners across different technologies, skillsets and verticals.
"This means that when we open the ecosystem, partners have got a lot more possibility of connections without a huge competitive outlook."
Vendor partnerships
The second area of focus for the distributor is around adding quality vendors to its portfolio. It added three new vendors during GITEX last year – StealthBits, which caters to protecting structured data; web performance and security company CloudFlare and SmokeScreen, which specialises in deception technology.
And just last month, it has also onboarded two brand new vendors – telco firm ZephyrTel and ECM solutions provider Reveille Software.
"Both firms are niche, and we are the sole distributor for their offerings in the region. We can provide value-added offerings to help them find the right partners to work with and to target the right set of customers. Our focus is to offer high-margin products to our partner community."
Hansford adds that security, analytics and customer engagement will remain a focus for the firm. "However, we are trying to find different ways of delivering within these segments."
In terms of technologies, the distributor is building enablement and training for partners to figure out the complexities and opportunities within Artificial Intelligence (AI)
"It's not necessarily always about a whole brand-new app or earth-changing solution, sometimes it's about incorporating AI to make an existing solution easier, faster, more efficient and so on," he explains. "This is the part that we need to help partners understand. IBM has some great offerings in this space."
Having achieved over 60 percent year-on-year growth last year, GSD is geared for a similar revenue objective this year too.
Hansford believes that the distribution firm is helping channel partners to "call the shots" with their customers by providing them complete control of their offerings through IBM's ESA, its own upcoming marketplace for partners and its increasingly growing vendor portfolio.
"The whole environment in the region is growth-oriented. There are immense opportunities here, we are working with our channel ecosystem to see how we can add genuine value, which is a critical component. We are looking forward to escalating our business together with our valued channel and vendor partnerships."