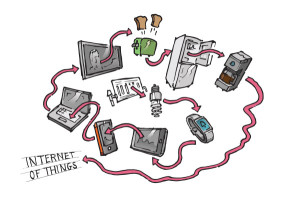 Internet of Things unlocks huge opportunities for the regional channel partners. Reseller ME finds out how they can optimise this technology to remain profitable.
The world in the next decade or less will transform dramatically. The connected environment will be taken for granted, the connections will not be visible, they will be integrated into all the systems, processes and routines. There will be infinite and even more extensive applications possible with Internet of Things (IoT) and will not be limited to just connected thermostats, smoke alarms, refrigerators, traffic lights, watches, health monitors, and other similar gadgets. IoT offers businesses the potential to solve challenges even before it actually happens.
Shams Hasan, Enterprise Product Manager, Middle East, Dell Middle East, says, "There are some positive adaptations of IoT already in use today such as in environmental monitoring, infrastructure management, manufacturing, energy management, medical and healthcare systems, and building and home automation. There are some concerns as well, such as, privacy and security, technology autonomy, environmental impact, connectivity loads, and compliance."
Whether it is IoT applications or challenges around it, there is a huge opportunity for channel partners to make the most of this. But are partners doing what is required to reap the benefits?
Hasan explains, "From a quantitative perspective, experts such as McKinsey and Goldman Sachs estimate the impact of IoT on the global economy as high as USD 6.2 trillion by 2025. Regionally we could break this down for the MENA region, a sizable global economic entity easily accessible to Middle East partners. With MENA GDP equivalent to 2.2 percent of global GDP, this would amount to USD 136 billion of that potential market. The regional partner ecosystem has a long way to go in regards to where it needs to be to cater to the market's demands.
"Given that there is low investment costs to protect and significant interests in IoT in the region, technology vendors, integrators, solution providers, and partners need to understand that if customers do not get the help they need today, they will look outside the region, and get it."
If customers receive the expected support from partners in order to understand the trends and the technology better, they will remain loyal and continue to give their business. But often partners themselves are not fully equipped to answer customers' queries, let alone lead the discussion.
"Partners can benefit a lot if they position their solution offering in a top to bottom approach rather than going after end product. IoT requires a good enterprise grade WLAN backbone network and that's where partners could benefit the most," says Malik Nawaz, Regional Manager, MEA, AirTight Networks.
Rabih Dabboussi, General Manager, Cisco UAE, says to effectively sell IoT solutions, partners need to engage with customers on a deeper strategic level, serving not only as value-added resellers or systems integrators, but as business innovators who can provide a competitive advantage. "For customers to deliver on tangible outcomes, partners need to work with them in new ways – transitioning to a service-focused, software-led approach. Partners may also need to retrain their IT experts to enable them to work more effectively with customers."
Also, it is not enough to simply sell the solution today, partners need to be in a position where they can provide customers with a complete, strategic IT roadmap. This, according to Dabboussi, will not only give them a competitive advantage in the market but also allow them to tie investment in IT services directly to business results.
However in order to offer an extensive roadmap, partners need to be well-versed with the broad-ranging technology. What can help here, says Sakkeer Hussain, Sales and Marketing Director, D-Link MEA, is segmenting. Partners will know the different target customers by segmenting the technology into various verticals. And these verticals could include smart homes, smart cars, smart wearable devices and so on. "By identifying the key verticals, they could promote their solutions to the right customers. One of the verticals to be impacted by IoT is smart home or home automation, which we at D-Link are going to introduce to the market very soon."
Hasan says, "Channel Partners looking to grab the IoT bull by the horns need to understand that these solutions are complicated. Investments need to be made not just in building partnerships with technology and solution providers but also within their own capabilities."
But over and above that, vendors too can play a huge role in training and educating the partners. It is critical the partners are aware of what is required to be on the profitable path with this technology.
A case in point will be Cisco's global IoT specialisations in key verticals, says Dabboussi. "Ranging from connected safety, security and manufacturing, these specialisations enable partners to improve customer relevancy, help build critical skills, and learn more about the vendor's technologies.
Hasan adds, "Vendors can help resellers and partners in general through thought leadership, training, and resources. With Dell's Internet of Things (IoT) Lab, we provide our resellers and channel partners a unique platform to help their customers with a dedicated facility for testing and deploying new IoT solutions."
Every new technology comes with its own set of challenges. "The main challenge is rethinking business models as hardware and software becomes one; in the IoT world, everything becomes a computer once software is added to it," says Hussain.
Ensuring a robust wireless connectivity, solving security challenges and extracting insightful data are also vital for IoT applications. "Exploiting modern IT requires hugely diverse skills that are too vast for any one partner to solve. However, no customer wants to search through suppliers to find those that can create the bespoke unified solutions to complex challenges. That's why partners should be connected to a strong ecosystem of companies, so they can unite with specialists from strategic consultancies to facilities management firms to create a broader range of solutions for customers," says Dabboussi.
The IoT market is only going to grow exponentially in the coming years. Research firm IDC forecast the global IoT market to grow from USD 1.3 trillion in 2013 to USD 3.04 trillion in 2020 with a compound annual growth rate (CAGR) of 13 percent. Those channel partners who can draw out a strong roadmap for their customers and ensure they are updated on the latest developments will have a better chance to take on the wave of IoT.