Tahawultech.com spoke with Riverbed Regional Vice President EMEA Emerging Markets Elie Dib, who outlined the company's latest product launch and how technology can help advance the human experience.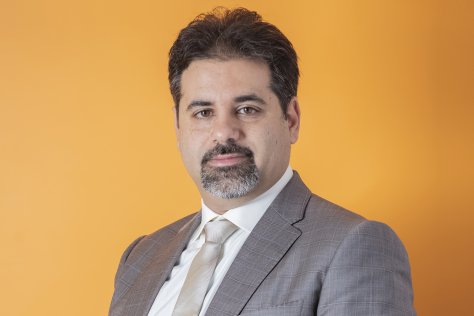 How long have you worked for Riverbed and what makes the company unique?
I have been with Riverbed for nearly six years and it has been an exciting and rewarding journey.
Riverbed today serves over 30,000 customers across the globe, including 100% of the Forbes Global 100. Despite this remarkable success and the ongoing growth and expansion, we remain as agile and dynamic as ever – which is why, even after all these years of success, we consider ourselves to be a billion-dollar start-up!
This is especially well reflected in our company culture which encourages and empowers every employee to do their best. As a result, this has fostered innovation and kept Riverbed at the leading edge of the industry. Over the past several years, we've invested and innovated in digital performance, with solutions to measure and manage the digital experience, and a next-generation network to drive digital performance. As a result, the customers we serve are themselves positioned to lead their industries in this wave of digital business transformation, and the next one. Riverbed is the best company I've ever worked for and I look forward to exceeding the expectation of our partners and customers.
As Riverbed's Regional Vice President, EMEA Emerging Markets, what has been your strategy in the region?
The digital evolution of the Middle East region has presented my team and me with an incredible opportunity. On the back of last year's growth, our responsibilities have been expanded and I now cover the entire EMEA Emerging Markets region.
One thing all countries within our remit have in common is that end user experience is the most important thing. It is a common language that all these diverse cultures speak, and we understand that.
The strategy that has resulted in Riverbed's ongoing success in the Middle East has been our focus on deepening penetration into key industry verticals, strengthening our relationships with our channel community and leading the sales teams to drive much closer engagement with customers in the region. It gives us great satisfaction in knowing that we now have the opportunity to replicate the success we have had in the region on a wider scale and thereby advance the digital capabilities of our customers in these markets.
What are the IT challenges organisations face today?

IT is evolving faster than ever before. If we look at the evolution of digital transformation, it's changed from a couple of years back. Nearly 4.5 billion humans are digitally connected, and these users want catered and personalised experiences on a daily basis. They are the ones driving the change.
This is a challenge for anyone who doesn't keep this in mind and doesn't try to differentiate themselves. Organisations need to be able to see things from the end user perspective and understand their digital footprint, rather than using the old-fashioned way of looking at how well the infrastructure is functioning.
To do so you need to start monitoring the end user, make sure you grasp the meaning of the data and apply AI on top of that. This will help offer customised solutions to personalise experiences for end users. Take as an example n11.com, Turkey's largest e-commerce platform and a Riverbed customer – they have more than 80 million visits a month and rely on our solutions to understand their users and deliver a better experience for them. They chose our digital experience management solution SteelCentral to eliminate blind spots in their network and application operations, and better manage and monitor the digital experience of users.
How do you think digital transformation is impacting the human experience?
The digital world is advancing a lot of things nowadays. We might be sitting at home shopping instead of going to a mall, but we still expect the best from the experience. This is why organisations need to listen to their end users and customers, as they are the key to success for any company. It's all about how you are perceived in the digital world. This is not only impacting businesses, but also us as humans. When I look at my kids, I see a level of creativity enabled by digital transformation that I have never seen before. They are exposed to a million different things which help them approach the world in a more creative way.
This transformation is also enhancing our efficiency, both in and out of the office. For example, back in the day it was impossible to keep in touch with friends if you lived in different places, but nowadays people interact easily. The digital world has enabled us to bring people together and enjoy life more. When you look at offices, Office365 is pretty much the norm and we spend most of our time using the software in the cloud. By implementing our SaaS accelerator, what employees used to do in three hours can be done in ten minutes, allowing them to spend time doing all sort of creative tasks they didn't have time to do before. I think the most important thing to understand is that technology exists to enhance the human experience, not the other way around.
How can Riverbed's products help organisations achieve a better human experience in the digital world?
Nowadays vendors need to provide a platform for the customers to be able to monitor and enhance their own end users' experience. And the Riverbed product portfolio offers the means to do this.
Our Digital Experience Management (DEM), a unified end-to-end platform, starts from monitoring the end user experience, and goes all the way up to the data centres, applications, infrastructure and so on. Organisations need to look at their business from the end-user perspective and start monitoring from there. That's the key differentiator today and what Riverbed is helping our customers and partners to achieve. By having the DEM as a platform that allows you to monitor the entirety end user's journey, you can have full visibility and full control over what happens in your infrastructure.
Our next generation infrastructure solutions are a combination of a SD-WAN platform and our application and cloud acceleration offerings, including our new SaaS accelerator. Studies have found that on average, employees use 8 SaaS apps to complete work and 73% of companies will move 80%+ of apps to SaaS by 2020. Companies need to make sure that their employees and the end user's experience stays intact while doing so. By using the SaaS accelerator, organisations can make sure the experience stays the same while also being more cost-effective for the customers.
Our SD-WAN was also enhanced to provide unified orchestration and connectivity across multiple segment within the enterprise. What I believe will be the next step into the whole digital transformation game is our latest DEM enhancement. We have introduced automated remediation for common issues, so once they detected, the solution by itself will be able to remedy them before they start impacting end users or customers. Looking at the whole portfolio and thinking about it from a human experience, this is where we are. This is why we are the company that can advance the human experience and empower our customers and partners to deliver these key differentiators for end users.