CNME Editor Mark Forker secured an exclusive interview with Thierry Nicault, Area Vice President – UAE, Middle East at Salesforce, to find out more about the dynamic growth and expansion the global CRM leader is enjoying across the region, the impact its net zero cloud application will have in helping enterprises achieve their sustainability goals – and how it nurtures its famous company culture in a work from anywhere world.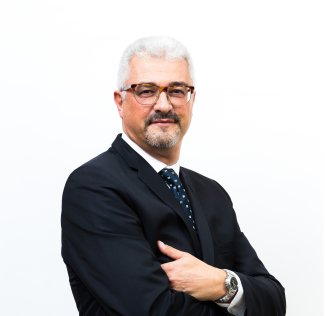 Thierry Nicault was back in Dubai for Salesforce Live 2022, which was once again an incredibly successful event for the global CRM leader – and he caught up with CNME Editor Mark Forker.
The Middle East is the fastest-growing region for Salesforce – and the Salesforce ecosystem of partners in the UAE, for instance, will create 20,300 new jobs and USD 3.9 billion in new business revenues by 2026, with an aim for continued expansion both locally and regionally.
The last time CNME was in conversation with Nicault was September 2019. However, the world we now live in has changed irreversibly since then. The way we live, work, and learn was completely realtered as a direct consequence of the COVID-19 pandemic.
The one constant in the time that has lapsed since we last spoke has been the continued success of Salesforce, amidst all the disruption and uncertainty, the company has gone from strength-to-strength.
We began the conversation by touching on how the pandemic had accelerated digital transformation on a global scale, and how that had fundamentally changed the terms and conditions so to speak when it comes to the way Salesforce conducts its business and interacts with their customers.
According to Nicault, the topic of digital transformation has now become a key priority for the C-Suite as businesses scramble to meet the evolving demands of their customers.
"Digital transformation is now becoming a hot topic at board level, and it is becoming a critical component of a CEO's strategic agenda. What has become very evident over the last 18 months is the fact that companies need to become resilient, and the way to achieve resiliency is to ensure that all customer engagement is at the heart of everything they do", said Nicault.
Nicault added that some other key trends that have bubbled to the surface during the pandemic include the importance of empowering your employees in a 'work from anywhere world' – and an increased focus on your customer when it comes to your strategy.
"From the onset of the pandemic it quickly became clear that businesses needed to be operational wherever their employees were located. Businesses needed to provide them with the access, tools, and solutions required to do their job effectively, efficiently, and securely. In the post-pandemic world that we now find ourselves in, we see a couple of pertinent factors that are critically important to the executive board. The first one is customer-centricity. The customer needs to influence every decision you make, it must form your strategic direction as an entity. The landscape has changed dramatically and that as resulted in businesses needing to 'wow' their customers every time the opportunity presents itself", said Nicault.
Nicault referenced that Salesforce champion the concept of having a 'Digital HQ', and said it is something that they advocate to their customers. He explained that a Digital HQ essentially means that whilst a physical presence is still necessary and important, businesses need to be agile enough to work even if you don't have a physical presence.
During the pandemic the growth enjoyed by Salesforce skyrocketed, which was fueled primarily by the exponential demand for digital transformation. However, innovation is embedded deep into their DNA, and they developed solutions that were needed as industries and cities were engulfed in crisis in the early days and months of the pandemic.
"We continued to grow at a phenomenal rate during the pandemic as the demand for digital transformation was just off the charts. We also developed and built a lot of new solutions, and one of them was our health cloud solution. It is an application that we built out of our platform, and it ultimately allowed our customers to engage in shift management, contact tracing and vaccine management. Take the city of New York as an example, they adopted our health cloud solution to manage their vaccination campaign and rollout across the entire New York area, which they achieved to great effect. We are extremely proud of the fact that are solutions enabled government agencies and healthcare providers to have business continuity during the pandemic", said Nicault.
Sustainability is a key issue as fears continue to grow over climate change and the challenges facing our planet. Many multinational entities are fully committed to reducing their carbon emissions and are putting measures in place to achieve that.
One of these multinationals is Mastercard, who has a long-standing partnership with Salesforce – and the global payments leader is now on a mission to become sustainable.
Nicault highlighted how they are leveraging their net zero cloud application to help Mastercard achieve their long-term sustainability aspirations.
"Sustainability is a key KPI now for enterprises on a global scale. We have developed an application called 'Net Zero' cloud. It allows end-users to track, monitor and analyze their carbon emissions and report it. Mastercard came to us and told us that they needed to become more sustainable, so we worked with them closely to help them meet their objectives. Once we informed them about the capabilities provided by our net zero cloud it was exactly in line with what the Mastercard board members needed to do. They need to be carbon free in the coming years and they have adopted our net zero cloud application to enable them to do this", said Nicault.
One of the key components of the success enjoyed by Salesforce is the 'culture' that it has cultivated over the years, and the environment that it has fostered has allowed creativity and innovation to flourish.
However, with so many of its workforce now working remotely, and with many new employees being onboarded outside of the traditional parameters that existed pre-pandemic, how does Salesforce ensure it retains and nurtures that culture in this 'work from anywhere' world?
"We are a company that is drinking its own champagne, and what we mean by that is the concept of Digital HQ that we strongly recommend to our customers is something that we apply to ourselves, we created the concept of a Digital HQ. I had just returned from South Africa at the end of February 2020, when all business travel was halted by our CEO. He then told us that we needed to think about how my team and our extended team would be able to continue to run our business activities and functions, because we are no longer working in the same world as we were before. I'll be honest though the onboarding experience in a virtual world was not the same for us. The onboarding process pre-pandemic was we would conduct training that was locally based, and then we would have what we call a 'bootcamp' for two-weeks in San Francisco for every newcomer. We transformed the process to be fully remote and digital through collaboration tools like Zoom, but it was not the same. However, the foundation of our training and the strength of our culture in our onboarding process was good enough to successfully onboard 22,000 people during this period, which is quite remarkable", said Nicault.
Many analysts have attributed a lot of the success of Salesforce to its canny ability to make the right acquisitions at the right time. Nicault highlighted the key role played by Salesforce Venture, but also stressed that the company only makes acquisitions that make sense.
"We have an entity called Salesforce Venture that is investing in technology startups that have great potential, and it also examines trends that are emerging across different markets. It is part of our DNA to look at what is going to be important down the track in a bid to capitalise on that opportunity. However, if you look back at our past acquisitions, we always make acquisitions that makes sense for our overall portfolio. We are always motivated to find ways that enhance and increase our customer engagement across the portfolio of products and solutions that we have. Internal innovation and organic development are part of our makeup as a company, but we always look at that external development as well because it could really help accelerate our product cycle and helps us to be more relevant and again as I said earlier help us improve our customer engagement", said Nicault.