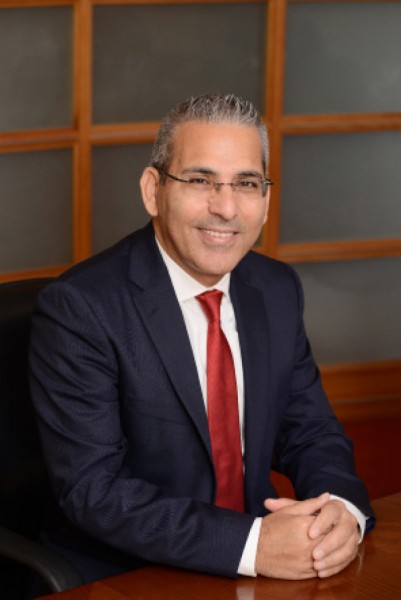 Amer Khreino, CEO, Raqmiyat, elaborates on the 34-year-old firm's plans to evolve into a next-generation services provider with deeper systems integration capabilities by 2020.
The systems integration space has evolved radically over the years. In the beginning, firms utilised a diverse set of monolithic systems to automate specific areas in the business operations. The integration aspect was largely a labour-intensive role. The industry has come a long way from then to today's cloud era, which also means to survive and thrive, systems integration firms need to be agile and forward-thinking in their approach.
Having set up operations in the UAE 34 years ago, as a software development house, Raqmiyat, part of the Al Ghurair Group of Companies, has progressed into a solutions, services and consulting firm today. With four distinct business units – BFSI Solutions, Enterprise Technology Solutions, Smart Business Solutions, IT Infrastructure and IT Staffing Solutions – the company is aiming to become a next generation services provider with solid systems integration capabilities by 2020.
Amer Khreino, CEO, Raqmiyat, says, "Our end-to-end IT advisory capabilities clubbed with our project management expertise and project financing are differentiating our service offerings to customers. Raqmiyat capabilities are diverse and play a vital role in customers' digital transformation plans."
The company offers a wide range of enterprise technology solutions around cloud computing, cybersecurity and smart solutions leveraging IoT and analytics, as well as, business automation and optimisation solutions that cover mobility solutions, ERP, HCM, talent management, corporate performance management among others.
According to Khreino, cloud has been the biggest phenomenon for customers' journey into digital transformation.
"This has altered the way we do business completely. Cloud continues to, whether it is Software-as-a-Service, Infrastructure-as-a-service or Platform-as-a-Service, lead all other technologies into the digital transformation era. Cloud computing is one area that will continue growing in the foreseeable future and we need to continue gearing up. We as systems integrators need to make sure that we know how to stitch things together and offer it to the customer in the best way possible so that they can benefit from it."
Khreino also says that IoT and analytics related technologies are becoming vital, especially at a point where vendors are increasingly focusing on smarter initiatives, at a government, education and infrastructure level.
"Today there is a lot of momentum building around smarter solutions, be it on transportation, utilities, smart meters and classrooms among others."
None of the technologies will be functional without security being closely integrated into it.
He adds, "Cybersecurity and security in general will govern the digital transformation that customers are in the midst of. We believe solutions around security, cloud, IoT and analytics will continue growing in an exponential way over the next five years."
Raqmiyat has built a robust services portfolio over the years. Many government organisations prefer a SLA driven business and therefore outsource their non-core activities.
"Within the government and banking verticals, IT is considered to be a non-core activity. Systems integrators and next-generational service providers can capture exceptional opportunities in managed and cloud services," he adds. "We offer complete IT managed services that covers professional consulting and staffing, on-site support and off-site monitoring. We leverage solid association with trusted solutions providers and partners that has the scale and expertise in their domain."
The firm aims to attain a 20 percent growth by the end of the year and according to the CEO, there are plans underway to achieve this.
"We will continue to focus on upselling and cross-selling within our existing customer base, especially since we have added many new associations and restructured the firm to provide a new line of business."
The systems integrator is also growing its technology partnerships and has acquired more than 15 new vendors over the course of last year.
"This too will help us in our growth strategy. As a vendor-agnostic player, our aim is to provide the best solutions that are most apt for our customers' requirements," Khreino explains. "We onboard new vendors every quarter. We will also capture new segments and accounts."
Technology giants such as Huawei Enterprise, IBM Security, Microsoft Azure, Alibaba Cloud, Infoblox and Fortinet, among others, have joined the company's vendor platforms.
"We will also work on improving throughput through further automation, PR and marketing."
As a systems integrator, Khreino believes the challenge continues to be building the right structure, because to do this, one must have high capabilities to offer customers.
"With the business shifting towards cloud subscription and managed services model where the revenue stream comes ahead in time, it becomes difficult to balance the cash inflow and outflow as well as manage profitability in the best way possible," he adds.
Besides this, other challenges continue to be driving higher revenue targets, profitability and low margins.
"Systems integrators and solutions providers must build value with the capabilities that they offer."
Khreino says while value-added distributors are offering adequate support on enablement, resources, technology education and financial facilities, it would be ideal if they could offer extended payment terms.
"As the projects are largely long-term with a prolonged financial cycle, extended payment terms will help us further. However, we understand that the distributors too are restricted in this area."
Another area where value-added distributors can make a difference is by having an 'excellence centre'.
"This will help us showcase solutions across many technologies; where we can simulate environment real life," he adds.