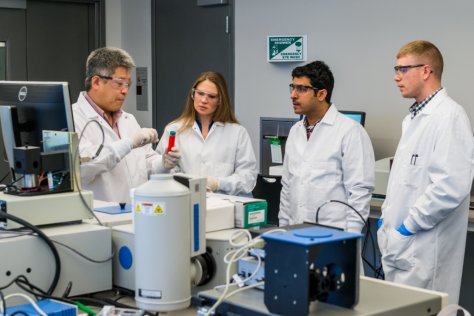 Saudi Aramco is boosting its patented technologies after doubling its scientist headcount to 1,300, The Wall Street Journal reported.
According to the report, the US Patent and Trademark Office granted the oil giant 230 patents last year, four times as many as in 2013 when it racked up just 57.
Technologies "provide a competitive advantage … whether it's for one shareholder or several shareholders," Aramco's Chief Technology Officer Ahmad Al-Khowaiter told the newspaper.
In the past five years, Aramco has doubled the number of scientists in its labs, to 1,300 out of a total workforce of about 65,000, and opened nine research centers in places like Detroit, Paris and Beijing.
Its most recent patents have included fluids to break rocky oil formations using micro-particles, a docking station for mobile robots deployed in oil fields and techniques to remove carbon from fuels.
The energy company has also recruited top scientists from oilfield services companies such as Schlumberger and Halliburton as well as French automaker PSA Group.
Aramco is developing robots that inspect underwater pipelines, technologies aimed at easing the extraction of oil and gas trapped in rocky formations and new ways to use more of its crude to make chemicals, the WSJ said.
Its intake of young scientists are given tasks such as inventing solutions to tackle the build up of sand and dust on solar panels or designing cars that store carbon dioxide instead of emitting it through their exhausts.