Dubai Chamber of Commerce and Industry has revealed the latest initiative designed to ensure the well-being of its team members.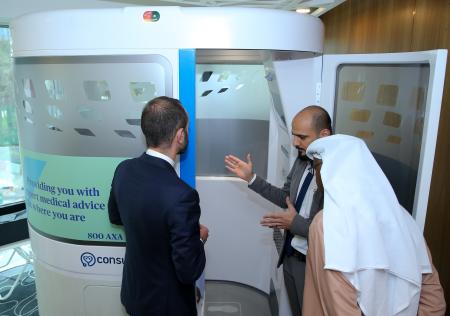 The organisation, which represents the interests of Dubai's business community, has piloted a trial of the new AXA 360 Doctor Check-up Station, a smart solution that uses advanced technology to provide preventative healthcare to employees.
The screening functions of the 360 Doctor Check-up Station – an offering from AXA as part of their Health on Track initiative – enable users to connect to a series of FDA approved devices and perform a thorough health check. Its comprehensive programming capabilities allow tests to be conducted on an array of bodily functions and systems, including blood pressure, heart rate, oxygen levels, vision, hearing, weight and temperature. Once the screening has been completed, users receive a printed summary report.
Dubai Chamber said that it chose to pilot the solution because of the value it places on the wellbeing of its employees, as well as through its commitment to bringing the latest artificial intelligence offerings to Dubai. A main aspect of the chamber's role is to support Dubai's drive to become the most technologically advanced and happiest city in the world, something its Senior Vice President of its Commercial Services sector was keen to highlight.
"Dubai Chamber is delighted to be the region's first organisation to bring this new technology to its employees with the support of AXA as a strategic partner. We recognise that our most important asset is our team members and as such, we place a priority on their health and wellbeing," said Atiq Juma Nassib, Senior Vice President, Commercial Services Sector at Dubai Chamber.
"The piloting of the 360 Doctor Check-up Station represents both the importance that Dubai Chamber places on investing in its staff's health and its keenness in bringing innovative healthcare products to the emirate. As the organisation that represents Dubai's business community, we are playing an important role in realising Dubai's vision of attracting the best smart and Artificial Intelligence products and services to elevate the emirate on the global stage. Cutting-edge solutions such as this are helping to ensure that Dubai reaches its goal of being the world's most innovative and happy city and we are proud to play a part in making this ambition a reality," Nassib added.
Cédric Charpentier, Chief Executive Officer of AXA Gulf and Benoît Claveranne, Chief Executive Officer of AXA International and New Markets, were also on hand to witness the demonstration of the new 360 Doctor Check-up Station at Dubai Chamber, with Charpentier highlighting how AXA is changing the way health checks are administered.
"AXA is revolutionising the concept of prevention to encourage employees to engage in our vision for the future of healthcare. Through the new AXA 360 Doctor Check-up Station, we are empowering them to better understand and manage their personal health risks. Our partnership with Dubai Chamber showcases how cutting edge medical technology can be deployed to offer insight, reassurance and peace of mind. Our goal is to help our customers to live healthier lives and our 360 Doctor Check-up Station is a unique example of technology empowering people to make meaningful changes to improve their health," Charpentier said.
The 360 Doctor Check-up Station is just one component of AXA's unique wellness offerings in the region that form part of its 'Health on Track' initiative. The customisable programme consists of a toolbox covering 10 different solutions for wellness and prevention that addresses the growing needs of customers along different stages of their health journey, from healthy to chronically ill.
AXA will be showcasing the new 360 Doctor Check-up Station during key events around the region as part of its Health on Track initiative.