The Dubai International Financial Centre (DIFC) Courts has signed a cooperation agreement with the Dubai Future Foundation (DFF) to launch the world's first Court Tech Lab.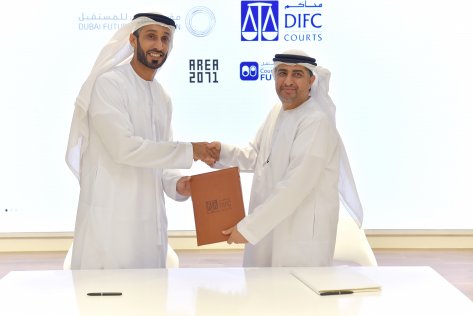 The Court Tech Lab seeks to bring together individuals and companies helping to prototype and launch the advancement of legal technology, such as Blockchain powered initiatives, AI enabled programmes and cloud-based solutions.
According to DIFC Courts, it will be mandated to help cultivate those ideas by running a yearly competition cycle, helping to raise support and capital for companies demonstrating promising breakthroughs in the arena of court tech.
Harnessing the established framework and talent pool from DFF's AREA 2071 ecosystem, the competition will invite start-ups, scale-ups and innovative SME participants to submit and present new and viable court tech solutions.
Shortlisted finalists will have the opportunity to showcase their innovative solution to a panel of private sector technology partners, as well as officials from the DIFC Courts and the Dubai Future Foundation.
The final chosen concept will then receive financial investment, as well as access to the DIFC Courts to research, test and adapt the technology solution.
Omar Al Muhairi, Deputy Chief Justice, DIFC Courts, said, "Thinking through the judicial implications of emerging technologies is a key priority for the DIFC Courts. This new initiative, under the guidance of the Courts of the Future, will help unlock the power of these same innovations to transform the experience of using a court for the end-user, the legal sector and the judiciary itself."
The Courts of the Future was launched by the DIFC Courts and the Dubai Future Foundation (DFF) in 2017 with a mandate to explore diverse legal tech. Topic areas and to provide research and thought leadership on promoting and encouraging contemporary methods of greater accessibility and efficiency to court users across the globe.
Khalfan Juma Belhoul, CEO, Dubai Future Foundation (DFF), said, "The MoU signed today represents yet another milestone for the Dubai Future Foundation as it reinforces the power of collaboration between the government, private sector and start-ups to create an ecosystem that drives innovation. By leveraging disruptive innovation and emerging technologies, the Court Tech lab, aims to revolutionise the judicial system, further positioning Dubai's role as a leading city of the future."
In 2018, launched as an initiative under the Courts of the Future, the DIFC Courts partnered with Smart Dubai to create the world's first Court of the Blockchain. Building on existing dispute resolution services, the alliance is exploring how to aid verification of court judgments for cross-border enforcement.
The partnership is the first step in creating a blockchain-powered future for the judiciary which will have far-reaching benefits, including streamlining the judicial process, removing document duplications, and driving greater efficiencies across the entire legal ecosystem.
Launched in 2017, AREA 2071 It's a space and ecosystem purposefully designed to deeply connect corporates, governments, start-ups, investors, the youth, and the public in order to co-create the future.t