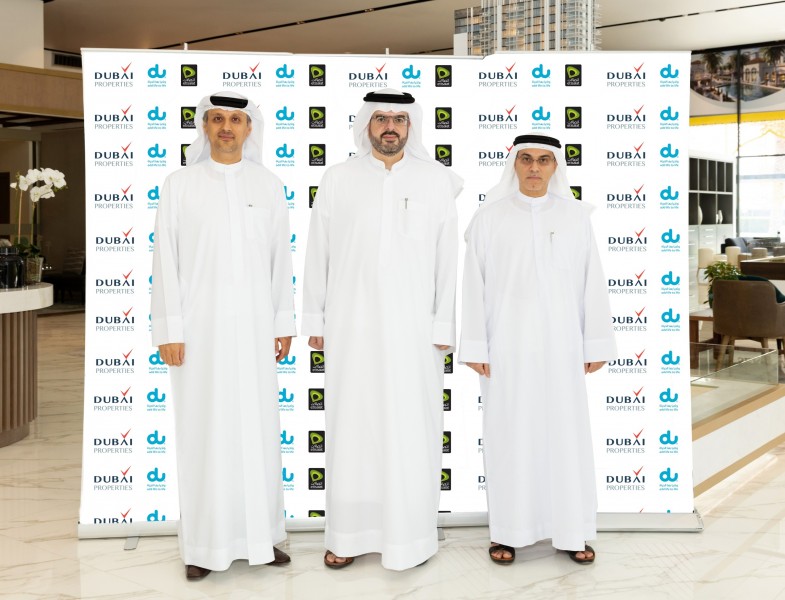 Telecom operators du and Etisalat have announced that they teamed up with Dubai Properties to provide smart ICT infrastructure for its upcoming realty projects.
The move is part of more than 50 projects under Taawun agreement, a joint initiative between Etisalat and du – from Emirates Integrated Telecommunications Company, to support the vision of the government in developing a smart telecom infrastructure across the UAE.
The agreement is estimated to benefit more than 100,000 people living and working in the nearly 20,000 Dubai Properties-owned units by 2022. It will provide customers, both residential and business, with the option to select the telecom service provider of their choice.
Through the deployment of premier end-to-end Fibre-to-the-Home (FTTH) fibre optic telecommunication network, enhanced 3G/4G and LTE cellular coverage, upgraded internet services and infrastructure as well as other communication upgrades in range of projects in Dubai, Taawun agreement is helping UAE residents and businesses experience smart city services as they evolve.
With infrastructure provided by Taawun, Dubai Properties aims to equip several realty projects in the next five years: Mudon communities of Arabella, Villanova and Serena, The Villa development, Liwan and Culture Village. The first project to go live will be Arabella at Mudon.
The initial project under Taawun initiative was implemented within Dubai Sustainable City. The project covered residential units, an environmental sciences university, a school, a commercial centre, a shopping mall and a deluxe sustainable hotel and resort. Similarly, many other major developments where Taawun infrastructure and services are already deployed across the UAE.
Jaber Mohamed Al Bastaki, director of Operations, Dubai Properties, said: "As a company built on a foundation of delivering vibrant residential, retail, and business communities that support and enhance the wider Dubai community, Taawun's support in our endeavour to develop smart new realty projects is invaluable. The resulting innovations and solutions they will provide will be instrumental in ensuring that all our upcoming projects achieve a common objective of supporting the UAE Vision 2021 and smart city development in Dubai."