Cisco unveiled further details behind its technology strategy for building a new internet — one designed to push digital innovation beyond the performance, economic and power consumption limitations of current infrastructure. Described as a multi-year approach that is defining the Internet for decades to come, Cisco's strategy is already delivering technology breakthroughs to pave the way for the world's developers to create applications and services they have only begun to imagine.
Cisco introduced its latest innovation including Cisco Silicon OneTM, the industry's only networking silicon architecture of its kind; released the new Cisco 8000 Series, the world's most powerful carrier-class routers built on the new silicon; and announced new purchasing options that enable customers to consume the company's technology through disaggregated business models.
"Innovation requires focused investment, the right team and a culture that values imagination," said Chuck Robbins, chairman and CEO of Cisco. "We are dedicated to transforming the industry to build a new internet for the 5G era. Our latest solutions in silicon, optics and software represent the continued innovation we're driving that helps our customers stay ahead of the curve and create new, ground-breaking experiences for their customers and end-users for decades to come."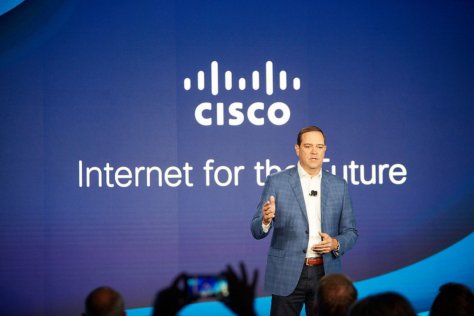 Over the next decade, digital experiences will be created with advanced technologies — virtual and augmented reality, 16K streaming, AI, 5G, 10G, quantum computing, adaptive and predictive cybersecurity, intelligent IoT, and others not yet invented. These future generations of applications will drive complexity beyond the capabilities current internet infrastructure can viably support.
For the past five years, Cisco has driven a technology strategy that is building the internet customers will need for the future success of their business in an advanced digital world. Aimed at solving the toughest problems that will emerge as digital transformation taxes current infrastructure to its breaking point, this strategy aims to lead to the next generation of internet infrastructure that combines Cisco's new silicon architecture with its next-generation of optics. Cisco's strategy aims to change the economics behind how the internet will be built to support the demands of future, digital applications while enabling customers to operate their businesses with simpler, more cost-effective networks. Cisco's strategy is based on development and investments in three key technology areas: silicon, optics and software.
"Pushing the boundaries of innovation to the next level — far beyond what we experience today — is critical for the future and we believe silicon, optics and software are the technology levers that will deliver this outcome," said David Goeckeler, executive vice president and general manager of the Networking and Security Business at Cisco. "Cisco's technology strategy is not about the next-generation of a single product area. We have spent the past several years investing in whole categories of independent technologies that we believe will converge in the future — and ultimately will allow us to solve the hardest problems on the verge of eroding the advancement of digital innovation. This strategy is delivering the most ambitious development project the company has ever achieved."