Tahawultech.com spoke to CloudHost Rajesh Sajnani, Co-Founder and Managing Director, Nikhil Katara, Co-Founder and Director Operations, and Anand Subramanian, Sales and Marketing, to discuss how the Dubai-based cloud provider is raising awareness on the benefits of virtual data centres.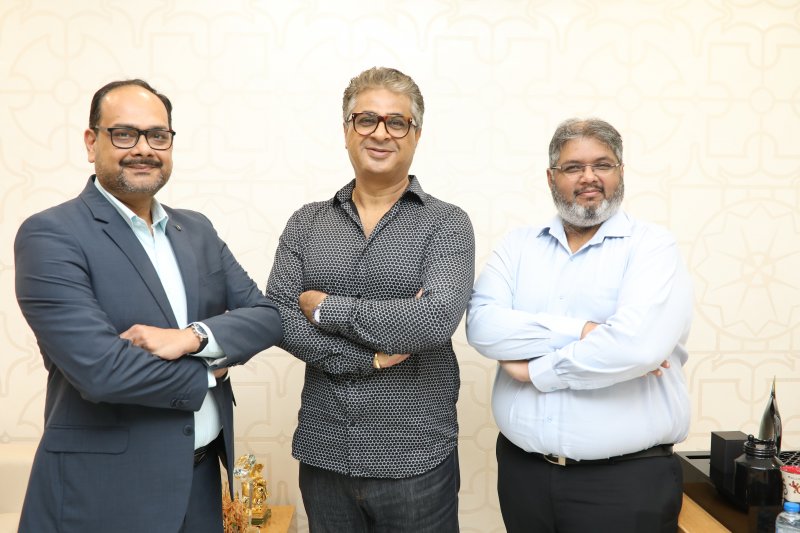 Gartner predicts that by 2025, 80% of enterprises will shut down their traditional data centres. They also branded virtual data centres as the future of IT infrastructure. What are the benefits of a virtual data centre compared to a traditional one?
RS: The world is progressing very fast and there is a lot of demand for new technologies. Everything has been disrupted – on the one hand, the hardware and on-premise solutions have been disrupted, which means that on the other virtual data centre have emerged as the new solution to implement. That is a progression that is going to happen and is happening as we speak. As you've mentioned Gartner supports this – three years down the line there probably won't be traditional data centres anymore because it doesn't make sense for businesses.
NK: The reason organisations should choose a virtual data centre is mainly because traditional data centres are restricted to their own network and their own boundary lines. On the other hand, virtual data centres provide the flexibility to have their own service provider. Customers get to manage them the way they want and build them the way they want. Virtual data centres are scalable, easily manageable, more secure and also have cost advantages for organisations.
What would you say are the challenges of moving to a virtual data centre?
RS: I think it's the same process people had to go through when we moved from the normal mobile phone to smartphones – people were sceptical, but it eventually it happened. People's mindset is definitely the biggest challenge. There still is a fear of unknown when it comes to virtual data centres. Organisations generally don't want to give their data to a service provider. There are psychological barriers to shift.
NK: Adoption is also an issue – even if organisations change their mindset, they lack awareness and knowledge of the solution. People tend to trust and understand what they can see and touch. Organisations need to fully understand the benefit of moving to a virtual data centre. It's a matter of time, virtual data centres will become the norm.
Security is a big topic when it comes to data centres, so much so that many hyperscalers are building data centres in the region to ensure data residency for their customers. What is CloudHost approach to security?
RS: As a provider, it's our job to give our customers the level of security they need. Customers should have the freedom to their core business – they generate the data, we protect it. We are very proactively creating and offering better secured solutions. We look at the challenges our customers face, and we come up with ways to solve them.
Gartner's 2019 IT Key Metrics Data shows that percentage of the IT budget spent on data centers has decreased over the past several years, and now accounts for just 17% of the total. In light of this, do you think virtual data centres are indeed the inevitable future of IT infrastructure?
RS: As I've mentioned before, there's a mindset shift that needs to happen. Those who are aware of it, are investing in virtual data centres and trusting us to do our job. At the same time, not investing in their own physical data centres is giving them more cash-flow. They have the flexibility to work on a pay as you go model, keeping their CaPex down and allowing them to allocate more or less investments to their virtual data centres. Unfortunately, this is still a slow process, but as we bring more awareness to this technology, it will quickly become mainstream in the region.
NK: The need for agility and speed is much higher in today's digital economy than it was before. The cloud makes businesses more agile and flexible when it comes to their investments. Not to mention the implementation period is much shorter than it would be with a traditional data centre – virtual data centres can implemented in minutes.
What differentiates CloudHost from your competitors?
AS: One of the main differences between us and our competitors is that we let our customers manage their own virtual data centres – with our CloudScales solution they have all the control. We believe this helps them trust the technology more and have somewhat of a psychological benefit attached to our solutions. We are the only company giving this option in the Middle East. It gives them security, because they are able to access it at any point of time – we give each customer their own firewall, so that they can manage and put their own policy in place. They are able to understand the technology better this way.
NK: That's definitely what makes us stand out. As we've mentioned adoption is a big challenge in the region – IT managers fear virtual data centres will put them out of jobs, but we actually give them a software to manage, so they can do in the cloud what they were doing before physically. With CloudScales we give the customers more freedom, stability, scalability and agility.
RS: From the very beginning we knew we didn't want to be just another cloud solutions provider – we want to solve problems. From handling, to integrating and educating them on our solutions, we take a full journey with our customers.