TahawulTech.com and Reseller Middle East hosted its seventh annual Hot 50 Awards at the open air restaurant BHAR, Renaissance Downtown Hotel against the Dubai skyline in the background.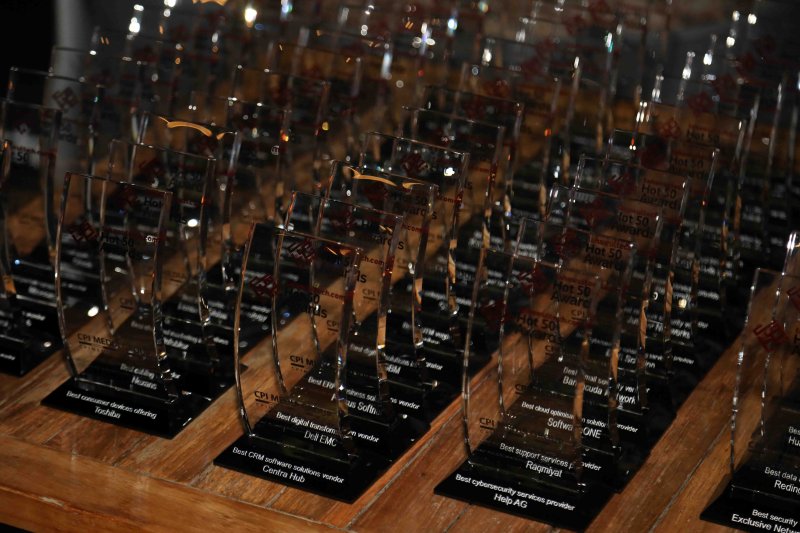 The most-coveted Awards gathered key players across vendors, distributors, resellers and systems integrators together on one platform. The 150 plus guests had an opportunity to network and applaud the achievements of the year. The exclusive event paid tribute to channel players who are resolute in their strategies to craft value and equally successful relationships for customers, partners and themselves.
Selected by tahawultech.com's and Reseller Middle East's editorial team, the elite winners were companies that had shaped the regional channel business through innovative initiatives and grew their operations despite challenging market circumstances.
In her welcome speech, Janees Reghelini, editor, Reseller Middle East and TahawulTech.com, urged channel partners to continue to evolve their businesses to the demands of the digital age.
She said, "Transformation to the next phase is only possible by acquiring new skills and staying on top of market developments. At TahawulTech.com and Reseller Middle East, we aim to continue to present the latest insights and play a role in inspiring IT businesses to turn challenges into opportunities."
The Reseller ME's Hot 50 include firms across an extensive range of sizes and specialities. This year the event has also announced personality winners, the complete list is as below:
| | |
| --- | --- |
| AGC Networks | Best IT solutions integrator |
| Al Jammaz Distribution | Best partner collaboration by a VAD |
| Areej Shakir, Veritas | Best disruptive marketeer |
| Avaya | Best UC solutions vendor |
| Aysha Al Meheeri, Injazat Data Systems | Most influential marketeer of the year |
| BARCO | Best channel training initiatives by a vendor |
| Barracuda Networks | Best email security vendor |
| Bulwark Technologies | Best security training initiatives by a distributor |
| Centra Hub | Best CRM software solutions vendor |
| Check Point Software Technologies LTD | Best channel growth initiatives |
| Dell EMC | Best digital transformation vendor |
| DME PROLINK | Best Passive Network Infrastructure Vendor |
| DTS Solution | Best cybersecurity consulting services provider |
| Epicor | Best channel sales support by a vendor |
| Exclusive Networks ME | Best security VAD |
| Finesse | Best digital services provider |
| Focus Softnet | Best ERP business solutions vendor |
| GBM | Best digital solutions integrator |
| GSD | Best enterprise solutions VAD |
| Help AG | Best cybersecurity services provider |
| Huawei Middle East | Best AI solutions provider |
| Infoblox | Best channel marketing initiatives |
| Infowatch | Best integrated information security provider |
| Ivanti | Best endpoint security manager solutions vendor |
| Juniper Networks | Best network security vendor |
| Kamlesh Lal, Dell EMC | Best innovative marketeer |
| Kaspersky Lab | Best anti-malware vendor |
| Lenovo Global Technology | Best enterprise solutions vendor |
| Lexar | Best personal storage vendor |
| ManageEngine | Best network management and monitoring vendor |
| Maya Zakhour, NetApp | Most influential channel sales personality |
| MBUZZ | Rising Star – VAD |
| MDS ap | Best enterprise solutions integrator |
| Mimecast | Best partner excellence vendor |
| Mindware | Best channel enablement initiatives |
| Nexans | Best cabling vendor |
| Norden Communications | Best CCTV and public address systems |
| OKI Europe Ltd | Best innovation in printing |
| Oracle | Best cloud applications vendor |
| Precedence Technologies | Best wireless solutions integrator |
| Pure Storage | Best storage vendor |
| Raqmiyat | Best support services provider |
| Redington Value | Best data analytics practice |
| Repografix | Best printing services provider |
| Ring | Best smart home security vendor |
| SCOPE Middle East | Best channel engagement initiatives by a distributor |
| SNB Middle East | Best post-sales support by a distributor |
| SoftwareONE | Best cloud optimisation solutions provider |
| Sophos | Best UTM vendor |
| StarLink | Best partner empowerment initiatives by a distributor |
| Toshiba | Best consumer devices offering |
| TransSys Solutions | Best cloud solutions integrator |
| VAD Technologies | Best disruptive solutions VAD |
| Veeam Software | Best data availability solutions vendor |
| Western Digital | Best portable storage vendor |
| Zyxel Middle East | Best product innovation |