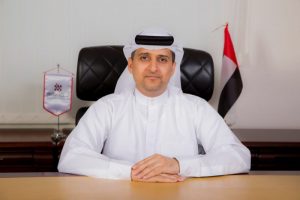 UAE's Professional Communication Corporation, Nedaa, has announced that it will be the official secure network communications provider at this year's edition of Dubai Airshow.
At the show, which is taking place from the 17th to the 21st of November at Dubai World Central, Nedaa is offering a key line of its advanced wireless communication solutions to ensure smooth and secure emergency responses between security personnel and organisations such as Dubai Police, Dubai Civil Defense and Dubai Ambulance.
Nedaa is positioning their mobile base station next to the Airshow site, offering round-the-clock monitoring and connectivity for addressing critical situations and equipment malfunction.
Known as the first organisation to operate the TETRA network in the region, they are providing technological support through their Airbus radio TH9 operating under the TETRA network, with 69 devices allotted to the security team for secure communications in all areas of the exhibition to ensure fast, secure and reliable data and information exchange.
"The Dubai Airshow is one of the leading exhibitions here in UAE, showcasing the latest and greatest in military, defense, general and commercial aviation. We at Nedaa are greatly honoured to be chosen again as the secure communications network provider for the exhibition by the Dubai Airshow Organising Committee, which reflects the continuing trust and confidence placed in us to handle all kinds of high-profile and world class events," said Mansoor BuOsaiba, CEO, Nedaa.
"We continue to strive for excellence, reiterated by our commitment to ensure smooth emergency response operations through our designated on-site technical teams at the airshow; leveraging extensive security research and maintaining the highest international standards to provide world class communication services to all our customers."