We took Ring's Door View Cam for a spin and found out why its ease of installation, good video quality and motion sensor settings make it stand out in the smart home security market.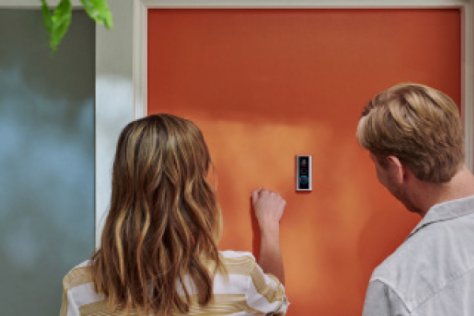 Being a home renter, I have never actually looked into smart doorbells, as I doubt any of my landlords would've been delighted to know I drilled holes into the outside of their property.
Enter Ring's newest addition to the market, the Ring Door View Cam – the first of its genre that will easily replace your peephole with a smart doorbell, no drilling required.
For the ones who are not familiar with smart doorbells, the Door View Cam will send a notification to your phone through the Ring app whenever someone knocks on your door, triggers its motion sensor (depending on the selected level of sensibility – more on that later) or rings the built-in doorbell. Through the app, you will then be able to see, listen or talk to whoever is outside your door.
The easy set up is arguably the best feature of this smart doorbell – so easy that it probably didn't take me more than five minutes to complete (even though I did have to rely on Ring's YouTube channel to walk me through some of the steps).
After fully charging the Door View Cam's battery, using a very handy tool included in the box that can scrape away any paint and acts as a screwdriver, I was able to remove my flat's peephole, something I didn't even know was possible, in a matter of seconds.
Then I just had to place the smart doorbell in the hole from outside, and connect it to the inside part, a white plastic box placed on the inside of your flat to connect the camera's cable and battery. Ring even provides a spare connecting cable in case anything happens to the first one during or after installation.
Once the physical set up is out of the way, all I had to do is connect the doorbell to my Wi-Fi connection and download the app to finish setting it up, which again probably took me less than a minute.
The Door View Cam works on 2.4GHz Wi-Fi – not as good as Ring Video Doorbell Pro's 5.0GHz Wi-Fi, but understandable as that requires hardwire configuration.
When it comes to everyday use, Ring's smart doorbell is the perfect tool for anyone, who like me, has stuff delivered to their flat all the time.
Thanks to the app, you don't just get to see whoever is outside your door at any time and wherever you are, but you can also communicate with that person using the doorbell's two-way communication feature. The Door View Cam also features 1080p resolution, with a wide-angle 155-degree lens and IR lights during nighttime.
For the first 30 days, Ring also provides video recording on the cloud for free using Ring Protect Plan. Once the free period is up, you can purchase a monthly or yearly plan, or if you choose not, you will still be able to get alerts and answer the door, but no footage will be recorded.
The first few days with the Door View Cam were a bit of a nightmare, mainly because I didn't realise I could adjust the sensitivity of the motion sensors, which means that anytime a neighbour would pass in front of my door, I would get a notification – let's just say there were a whole lot and it felt quite creepy to watch my neighbours' movements.
Once I explored the settings of the smart doorbell on the app, I discovered that Ring allows you regulate your motion settings in many different ways to avoid any unwanted notifications, including adding a motion schedule and frequency, turning on motion verification to reduce unwanted motion notifications and trim recordings if motion stops, and optimise the sensors using Ring's Motion Wizard – a nice little questionnaire to give the doorbell more information about your door's surroundings.
The Door View Cam also works with Alexa by asking "Alexa, show me my front door". For any Echo Show or Echo Spot's owners, you will also be able to use the devices as you do your mobile phone to view, listen and talk to anyone in front of your door. The smart doorbell doesn't however work with Google Smart Assistant.
Last but not least, the smart doorbell includes a glass viewer, so if you're home you can just use the Door View Cam as a normal peephole.
The Door View Cam is priced at AED 699 and available at Ring.ae, Amazon.ae, Dubai Duty Free, Jumbo, Sharaf DG and Virgin Megastore.