The CISO 50 & Future Security Awards 2021 organised by CPI, celebrated and recognised accomplishments in the regional IT security landscape.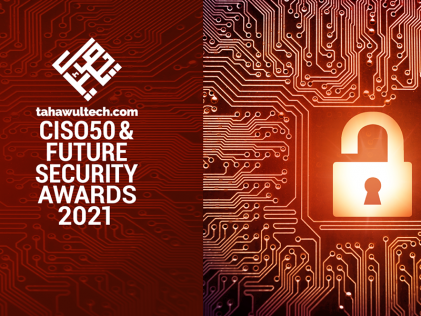 The awards, which took place at the Habtoor Grand Hotel in Dubai on Wednesday, celebrated and recognised CISOs and industry visionaries who have shown dedication and commitment in creating a cyber secure world, even in the middle of the current challenging market conditions.
With nominations received from the who-who of the security world, the awards were closely contested.
A panel discussion on Leadership & The Changing Security Dialogue, moderated by Anita Joseph, Editor, Security Advisor Middle East, debated the new role of the CISO and other security decision makers in today's changing threat-defence landscape. The panelists included:
Mohamed Kamel, Customer Success Manager, Seclore Middle East
Ahmed Diab, Senior Sales Director (StarLink)
Ranjan Sinha, Managing Director (Protiviti) and
Nicolai Solling, CTO, Help AG
Here's the full list of winners, across both categories:
CISO50:
Yousef AlShaer-Dubai Digital Authority.
Asma Omar Mohammed Muallemi-Dubai Municipality.
Rahul Mishra-RAK Bank.
Hind Ali Alloghani-Abu Dhabi Monitoring and Controlling Centre.
Abdulla Bader Al Sayari-Department of Health.
Khaldoon Bargouthi-Mohamed Yousuf Naghi & Brothers Group.
Nico Putter-Lamprell Energy.
Harsh Daftary-Emirates NBD Bank PJSC
Abdul Rahman-Omantel.
Aliasgar Bohari-Zulekha Hospital.
Velmurugan S-Emaar.
Sheikh Sabir-Department of Finance for the Government of Dubai.
Ali AL Ameri-Abu Dhabi Retirement Pensions and Benefits Fund (ADRPBF).
Abdulla Almarzooqi-Dubai Police.
Khalid Othman Binahmad-STC Solutions, Kingdom of Saudi Arabia.
Hamad Al Balushi-Ajman Digital Government.
Mahmoud Yassin-United Arab Bank.
Hani Bani Amer-ENOC.
Mohammed Shuaib-Smart Umm Al Quwain.
Jean-Michel Briffaut-Keolis-MHI.
Hadi Anwar-Group 42.
Mohamed Sabah Al Khalaf-Dubai Holding LLC.
Rajesh Sivarajan-Geodis Freight Forwarding LLC
Mohamed Abdulwahed Alajmani-Sharjah Customs.
Eric Gayet-Majid Al Futtaim Properties.
Nithin Geo Thomas-Amity Education Middle East.
Binoy Balakrishnan-AW Rostamani Group.
Shah E Room Khan-Emirates College of Technology.
Mohannad Hennawi-NAFFCO.
Hossam Abbas Barakat-Egypt Gas.
Emad Maisari-Mubadala Investment Company.
Mustansir Aziz-Gulf Diagnostic Center Hospital.
Manan Shah-Avalance Global Solutions.
Shijin Prasad RS-Cure Medical Centers.
Irshad Mohammed-VPS Healthcare.
Anoop Paudval-Gulf News, Al Nisr Publishing.
Vivek Gupta-GEMS Education.
Mohamad Mahjoub-Enova Facilities Management Services Middle East.
Prashant Nair-Network International.
Shishir Deshpande-Alec.
Hisham Mohamed Ali Ibrahim-Emirates NBD – Egypt.
Abdul Rahman Shelleh-Al Dhafrah Region Municipality.
Soney Paul Bahanan-NMC Healthcare Ltd.
FUTURE SECURITY AWARD WINNERS
Emerging Security Vendor of the Year- Virsec
Security Analytics Platform of the Year Award-LinkShadow
Best Network Security Vendor Award-Fortinet
Best Data Protection Vendor award-Seclore
Best Managed Cloud Provider Award-Rackspace Technology
Best AI Security Vendor Award-Hikvision
Best SMB Endpoint Security Vendor Award-ESET Middle East
Best Managed Security Services Provider Award-Help AG
Best Security V-A-D-Starlink
Best 5G Security Vendor Award-Huawei Middle East
Best Endpoint Security Vendor Award-Sophos
Best Smart Home Security Vendor Award-Ring
Best Encryption Vendor Award-Raqmiyat
Best Email Security Vendor Award-Mimecast
Best Cloud Networking Vendor Award-D-Link
Best Security Consulting Services Partner Award-Protiviti
Best Cloud Security Vendor Award-Micro Focus
Best Digitalisation & Cybersecurity Provider Award-Infobip
Best Managed Detection and Response Service Provider award-HELP AG.
Watch the highlights from the event below.