Jumbo Electronics is promoting smart and automated home ecosystems for customers across the UAE through its dedicated Smart Home solutions delivered by the well-trained and certified Jumbo Unwired Crew.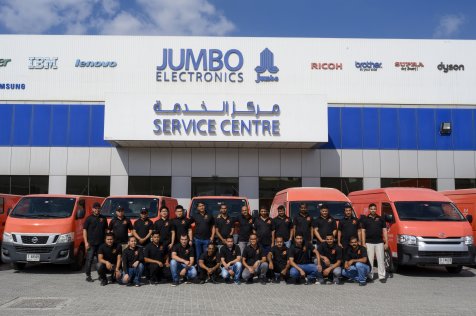 The company has brought in a curated range of innovative smart products from around the world. This includes brands like Sony, Sonos and Bose for smart audio; Amazon for Ring doorbells and cameras; Nuki and Yale for smart locks; Arlo for security cameras; Dyson and iRobot for vacuum cleaners; Vocolinc and Lifx for smart lighting, TP Link and Dlink for networking devices; Amazon and Google for smart hubs and speakers; HP Tango for smart printers; Fibaro for hubs and sensors; and smart devices from the Xiaomi ecosystem.
Through these products, customers can control their home via voice commands using smart hubs such as Amazon Echo with Alexa or Google Home. These smart hubs allow users to control and dim lights, lock doors, adjust indoor temperature, make phone calls, play music or control the TV – all via voice commands remotely. 
The new offerings include four lines of offerings, which include Smart Home Connectivity for upgraded high bandwidth environment; Smart Home Security for securing the perimeter as well as hands free secure entry; Smart Home Entertainment for the customers looking for better sound, connectivity for Netflix/Prime and other SVOD media platforms; and Smart Home Automation for home PC, Printing and other productivity related products. 
According to the company, this is an end-to-end service from Jumbo Unwired that starts with an assessment and understanding of the requirement on site for the customer, includes the product as well as installation services ensuring a connected home and a smooth environment with unified controls for users. Customers who have bought smart devices from elsewhere can also take advantage of the Jumbo Unwired services team, who will be happy to install the equipment for them.
Pankaj Kumar, Head of Jumbo OmniChannel Retail, said, "With 5G around the corner a lot of IOT and wirelessly connected devices are becoming very popular and we recognised that customers need professional help to assess their smart home requirements and provide a customised solution for them.
"Most of these products require expert installation to ensure that devices connect seamlessly to each other and users are able to access all the features of a product. Hence the need for expert advice at home and hassle-free setup services to configure this network of smart devices. With this in mind, Jumbo now provides customers access to an integrated service to address their complete smart home needs through a range of products and a team of experts, backed by one of the UAE's most trusted brands."
He added that as one of the first movers in smart home services in the UAE, Jumbo Unwired brings tremendous benefits and synergies to consumers. "This is an exciting new venture that would be valuable to those who avail our services through this professional team that provides comprehensive solutions including products, installation, integration, and after sales support services," said Kumar.
Jumbo Unwired has a team of 20 qualified engineers and programmers delivering these solutions to customers. The team is composed of experienced and trained tech professionals and technicians whose main focus is to analyse and understand customer's needs. 
To ensure a smooth experience, Jumbo Unwired provides remote diagnosis and at-home services, including a free evaluation for Smart Home devices, followed by purchase advice and expert installation services to ensure that customers get the best out of their Smart Home. Jumbo is currently the only retailer in the region that offers a one-year guarantee on these services.