The United Nations Industrial Development Organisation (UNIDO) has signed a memorandum of understanding (MoU) with Bahrain Technology Companies Society (BTECH), according to the Bahrain News Agency.
UNIDO aims to encourage Bahraini entrepreneurs in ICT sector to participate in the Bahraini National Pavilion at GITEX on 14-18 October at Dubai World Trade Centre.
Dr. Hashim Hussain, Head of the United Nations Industrial Development Organisation – Investment and Technology Promotion Office (UNIDO-ITPO) and Director of the Arab International Centre for Entrepreneurship and Investment Training (AICEI, stated that this partnership with the (BTECH) is one of UNIDO efforts to boost Bahrain entrepreneurship and innovation leadership.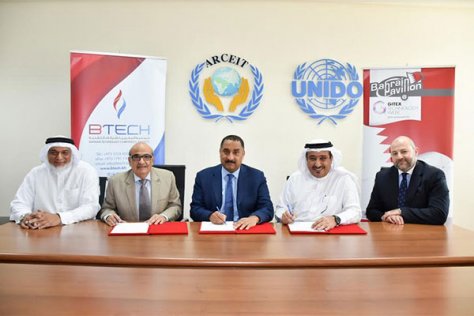 [For more stories about the upcoming GITEX Technology Week subscribe to our newsletters. ]
Dr Hussain pointed out that 48 countries have adopted Bahrain Entrepreneurship Model that is based on incubating emerging projects and providing support, consultation and funding through supporting institutions.
Chairman of Bahrain Technology Companies Society (BTECH) Ubaydli Ubaydli stressed the importance of UNIDO's partnership in fostering Bahrain Pavilion @ GITEX held by BTECH for the 12th year on a row.
Ubaydli highlighted on Bahraini entrepreneurs developed participation @ GITEX and their efforts to produce technologies that are expected to change the world around us and to further develop their knowledge and skills in emerging technologies such as smart cities, enhanced reality and virtual reality, internet things, smart manufacturing, and other axes that GITEX is focusing on this year.
He added that Bahrain's national pavilion at GITEX this year is expected to be attended by 40 Bahraini ICT companies and 20 Bahraini entrepreneurs in this field. He also reiterated his thanks to Tamkeen for its support to participation in the pavilion Year-to-year, thereby contributing to enhancing the capacity of private sector institutions in the ICT field to develop its productivity and competitiveness, its ability to provide quality employment for Bahrainis and increase their contribution to GDP.
Ahmed Al Hujairi, CEO of WorkSmart Company, welcomed UNIDO partnership strengthening in developing Bahrain ICT industry, including its efforts to foster the Bahraini Pavilion @ GITEX every year. "We are looking forward to continue working with all partners and exhibitors to integrate the services and products of IT companies in Bahrain, enabling us to enhance the competitiveness of this sector locally and regionally according to the latest global trends. Events of this kind are key factors in reaching the dream of the Bahrainis of becoming the future ICT hub in the Middle East region," he said.
Follow us on Twitter and LinkedIn, like us on Facebook to get daily updates on the latest tech news.