Christopher Cooper, General Manager – Lenovo Data Centre Group,  Middle East, Turkey & Africa, highlighted how its strategic focus on the channel is one of the company's key market differentiators.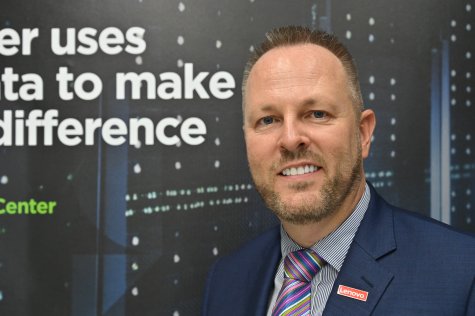 60 Minutes spoke to Cooper on the floor of GITEX Technology Week,  which is the region's flagship ICT event that got underway yesterday.
Cooper said that it was ultimately his responsibility to ensure  that Lenovo becomes the best of the best in order to differentiate the IT leader from its market rivals.
The dynamic executive has overseen tremendous growth for Lenovo  Data Centre Group since assuming his role in 2015, and said it was delivering on its message.
Cooper said, "Lenovo's tagline and message is 'Different is Better'
and I absolutely fundamentally humbly stand by that, as I think we're very differentiated and that's very important as it's a case of disrupt or be disrupted. For us it's about making sure we're bringing the best of breed, best in class technologies through
our routes to market because we're 100% channel driven."
Lenovo's General Manager also pointed out that its complete focus on the channel was given it a market advantage over its competition and outlined how the company is placing an increased focus on educating its channels partners and more and more disruptive technologies emerge.
Cooper added, "We're not flip flopping like some of our competitors  have done. We're sold into that vision and it's there to stay. We rely on our routes to market, our distribution, our resellers and system integrators who are fundamental to us. In addition to this we've also placed a lot of emphasis on educating that community  and ecosystem on new technologies that become available – and even new and evolving technologies before we even release them into the market, because if they're our routes to market then we've got to make sure there one step ahead of the curve."
Cooper concedes that their business model inevitably means there  is a heavy dependence on the channel but again he can only see positives in this approach.
"Unlike our competition, when I say there is a heavy dependence  on the channel we live or die by the channel – but what I mean by that is unlike our competitors who will hang on to every bit of GP possible and services, we actually embrace our channel in being our warranty service providers and doing implementation services  and again this gives us another key advantage."
Cooper also highlighted how its business model was of great benefit to the overall ecosystem and discussed the main objectives for his team.
He concluded by saying, "The focus of my team is working with
end-users to understand the business issues they're facing and then bring that to the table and build a solution that is right for that customer and then sell it through the channel. The other benefit to the ecosystem is if you're a partner we're allowing
them to win some of those service opportunities that they wouldn't ordinarily get, so rather than going to a large global player those revenues are sitting in countries with local system integrators and local partners and I think that's very important for the ecosystem."