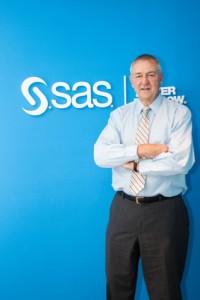 Jim Goodnight is one of the world's great business leaders, not to mention the wealthiest man in the state of North Carolina. After co-founding SAS Institute in 1976, he built it into the largest private software company in the world and by 2004 98% of Fortune 500 companies were using SAS programmes. Still passionate at 69, Goodnight told CNME that analytics is now far more than just BI.
How significant is the Middle East region to SAS?
This is actually my first trip to Dubai and I'm most impressed with it – I think I'll certainly be coming again. We have a pretty good presence here already – around 100 to 150 people, I think. We've had offices here for 22 years and last year we saw 50% year-on-year growth here. We are really seeing the Middle East becoming more interested in analytics and the ability to analyse the large amounts of data that are now available. As such, we are certainly planning on increasing our investments and expanding in the region. We're looking to open some new offices in the New Year.
People are saying data is a new oil. Do you agree with that statement?
It's an interesting statement. I think what they're really trying to say is the data that corporations have generated from customers can really be a strategic asset if used properly. Analysing data can provide an enormous amount of valuable information. You can use it to decide which customers you want to loan money to and which you want to deny, what you want to include in your next marketing campaign, or whether somebody's credit card is being fraudulently used, just to name a few examples.
What are the true opportunities that data analytics provides to enterprises in the Middle East?
It can be worth hundreds of millions of dollars. We've seen many examples where the amount of fraud we can detect can be very, very large. For a lot of the oil rigs, we're doing things like predictive asset payments where we can predict when parts are going to fail. That means that when you have to shut down on the process you have, we can predict several other things that are probably going to fail in the next few months and you can prepare for that.
SAS is the biggest pure-play vendor in the analytics field, but many of the software mega-vendors have tried to steal market share with their own offerings. How do you keep an advantage over these vendors?
First of all, we know what analytics is. Some of these other vendors that talk about analytics think of it as BI (business intelligence) – just the basic query and reporting. You can do all the querying and reporting you want to, but you're not going to find out what the probability of default a particular loan has. It's just not there. You need to have advanced analytics and SAS is the leader in advanced analytics with a 35% market share. Our next largest competitor is at 15% and that's IBM. So there is confusion amongst some of these other companies about what analytics is. They think just BI is analytics, but you really need to separate the two. BI is about making charts and tabulations about the past history, whilst advanced analytics is about trying to forecast future behaviours and directions, and trying to optimise processes. BI doesn't do that.
How do you find that Middle East organisations respond to SAS technologies compared to other regions?
I would say the Middle East is in the upper 25% of regions when it comes to adopting new technologies. We see lots of interest out here in organisations making sure they're using IT in correct ways. There are a lot of green fields out here which means that, without a lot of the legacy systems that lag other regions, Middle East enterprises are able to adopt new technologies much faster.
As we approach the end of the year, what does 2013 have in store for SAS Institute?
Right now we are still doing more and more development in the area of high performance. We're taking problems that used to run in 18-20 hours and running them now in 10 or 12 minutes by going through this process of running things as parallel with commodity type hardware. So high performance is one of our really big pushes right now and moving forward. As I said before, there's always other vendors that talk about BI as analytics, so we're going to give them more of a challenge in that space with our in-memory high performance server that we've developed for visual analytics. You're able to take a billion records and do visual analytics on that in a matter of seconds.
Is big data going to continue to be as big a force in the IT world as it has been in 2012?
Yes, because a lot of organisations are still missing out by not analysing all the data out there. Most organisations are still doing sampling on a small subset of data and then trying to build a model on that subset. Before, that was the only way to handle big data, but now we find that it's actually faster and more accurate to analyse all the data. Even if it is a billion records, we can now do that faster than we used to be able to do a 100,000 on a single processor.
I think most organisations in the Middle East have some kind of BI tool that they're using already. We're certainly going to try to convince them to move to our new laser in-memory technology, but it's the actual use of predictive analytics that we see more interest in. The ability to detect fraud or predict which customer should be in the next marketing campaign. These kinds of things are what real analytics can be used for. The real return of investment is going to come from this side, not BI.