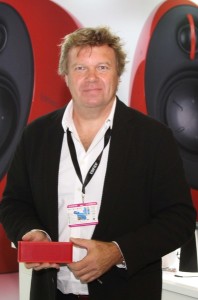 At the show floor of Gitex, we caught up with Anthony Wilkinson, MD of the Edifier, the first international audio brand to emerge out of China. He talks about the company's plans to tap the MEA market.
Was this the first time you have participated at Gitex? And what was the theme of your presence?
This is the first time we have had a booth at GItex. We have participated as a booth within a booth with Graphic International in the past but not to the extent where we have had a stand-alone booth of our own. We are a new brand that is entering into the international market. It's a sort of chicken and egg scenario; you got to start to grow, gain some steam and move head, which is the case for us.
We are not showcasing any particular products but building brand awareness. It is more of a coming out and saying here we are. There are many people in the channel landscape who haven't heard of us. We are trying to showcase out capabilities and talk to dealers as to who we are and what our goals are. We operate on an individual country basis and we don't play the game of having multiple dealers.
How strategic is this region for Edifier?
It is very important for us to be in this part of the world. This region has the technology understanding and affluence of course. Just look at what is happening in this region and it's going to permeate down to Africa. It's not that we didn't want to be here before. When we started taking the brand to international markets eight years ago, our priority was to get into Asia, North America and Europe. The timing wasn't right for us to be here 4-5 years ago. As in life, timing is everything and you can't push time.
What is distribution strategy in the region?
We have an end-to-end agreement with Graphic, which is developing the whole Middle East and Africa business for us.  We are looking at individual countries and finding what relationships are going to work for us. We are looking for distribution partners and what we typically find is that when you have multiple partners it gets messy and starts price wars. Also, each market is different in terms of dynamics and nuances. Some markets are more developed and some are not and affordability is also a key factor. However, the philosophy of the company remains the same throughout. Our individual country go to market strategy may differ because of the make-up of the country.
Can you tell us a bit about your portfolio?
Our portfolio is categorized into three segments. Multimedia, which is all about affordability. But, within this segment, we have high-end gaming products where performance matters more than affordability. Then we have studio products comprising the retro style bookshelf speakers and lifestyle, which is driven by design. The philosophy of our company is to design an audio evolution. Design is very important for us as it permeated into every aspect. Next year, we are starting home audio division by foraying into headphones. We are purely an audio company, and we have our own factory with 3500 employees in China. We also have an industry design centre with 15-16 designers working on products. We have our headquarters in Beijing with offices in Australia, Canada, UK and Argentina.
We are not here to be seen as just another Chinese company; we are here to be seen as a brand that is respected alongside the likes of JBL, Bose and Altec Lansing. In multimedia, we can compete head to head with Logitech. What makes us unique is that audio is the only thing we do and I am product to say Edifier is fast becoming a globally recognized brand.